What Quicksilver's Been Trying To Do Since Days Of Future Past, According To Evan Peters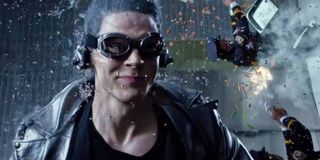 It goes without saying, but I'm going to bring it up anyway: Quicksilver (Evan Peters) stole the show when X-Men: Days of Future Past hit theaters two years ago. With such success it makes perfect sense that they would bring him back for X-Men: Apocalypse. While his return obviously means we will be getting another amazing super speed sequence, now we know that the film will also endeavor to explain more of the character's backstory – specifically his relationship to Magneto (Michael Fassbender).
Evan Peters recently spoke to Cinemablend's Nick Romano about his relationship to Magneto while on set for X-Men: Apocalypse, and discussed how his relationship to the powerful mutant will be explored further:
So now it looks like we have confirmation that the familial tie between these two characters will be explored in Apocalypse. In the decade since Peter Maximoff broke Magneto out of his prison at the bottom of the Pentagon, the young mutant has learned the secret to his parentage and has spent his time searching for his father. All information we have recevied thus far leads us to believe that Apocalypse finds Magneto first and corrupts his soul. Quicksilver's mission in the film will essentially be one of the most personal, as he wants to find his father and bring him back from under Apocalypse's control.
It was alluded to during Days of Future Past, when Quicksilver makes an off the cuff remark about his mom once knowing a man who could manipulate metal. At the time the comment seemed like nothing more than an Easter egg, but now we know for sure that it will in the plot of the next film. Two years ago during the promotional campaign for Days of Future Past, our very own Sean O'Connell directly asked Fassbender about a potential father/son relationship between the two mutants, and he only answered with one word: yes.
For those of you who don't know, in the Marvel source material Quicksilver and his sister Scarlett Witch are the children of Magneto. This has presented something of a conundrum due to the fact that Marvel Studios has been using Scarlet Witch and Quicksilver, while FOX has their own Quicksilver and Magneto. Because there are no mutants in the Marvel Cinematic Universe, and they will no longer be using Aaron Taylor-Johnson's version of Quicksilver, FOX can embrace the source material a bit more by confirming a true relationship between Quicksilver and Magneto.
Only time will just how much bearing this relationship will have on the plot of Apocalypse. Based solely on the trailers for the film, Magneto seems like a completely lost soul with no direction in his life, which allows him to be seduced by the titular apocalypse. Perhaps it won't be Charles Xavier, or Mystique who brings him back to the world, but a connection with his lightning fast son that will finally allow him to seek any sort of redemption by the time the credits roll. As I said, only time will tell. X-Men: Apocalypse will hit theaters on May 27, 2016.
Your Daily Blend of Entertainment News
Originally from Connecticut, Conner grew up in San Diego and graduated from Chapman University in 2014. He now lives in Los Angeles working in and around the entertainment industry and can mostly be found binging horror movies and chugging coffee.