Where Will Smith Stands On The Oscar Controversy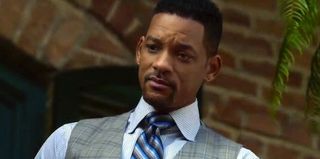 Every year, the Academy Awards are a hot topic of discussion. You've got surprises, snubs, predictions, and much more going around. But this year the awards themselves have almost been overshadowed by the swirling controversy surrounding the lack of diversity in the nominations, the Academy's proposed steps to change the process, and a lack of representation in Hollywood as a whole. Many celebrities and industry players have chimed in, on both sides, and Will Smith recently added his two cents.
Will Smith is currently promoting his NFL head trauma drama Concussion, where he plays the doctor who first brought the dangers of repeated blows to the head to the awareness of professional football. When he stopped by the Graham Norton Show, the host asked for his take on the controversy, and the former Fresh Prince said:
As Will Smith says, so much of this discussion has been about sides and which camp a certain person falls into. If there's such a combative stance, there's going to be much more time and effort spent on fighting and arguing rather than actually working towards any sort of resolution. Hopefully if people are willing to work together there will be the chance to create a more inclusive system and industry as a whole.
Check out Will Smith's full comments below.
This isn't the first time that Will Smith has found himself in the midst of the Oscar controversy. Many view a lack of a nomination for his portrayal of Dr. Bennet Omalu in Concussion to be something of a snub. His wife, Jada Pinkett Smith, has been very vocal and outspoken, and is among the many celebrities that could potentially boycott the Academy Awards ceremony next month.
Though he was a bit surprised by her statement—he was out of the country at the time—Smith called his wife's words a "call to action" and said that, in their position, if they aren't part of the solution they're part of the problem.
The Academy of Motion Picture Arts and Sciences, the organization behind the Oscars, has come out with some proposed changes to their membership and voting processes in an attempt address the lack of representation. As with any attempts at change, this has been met with resistance, so it will be interesting to watch this story as it continues to develop, especially after the Oscars are handed out on February 28.
Your Daily Blend of Entertainment News