Where The Wild Things Are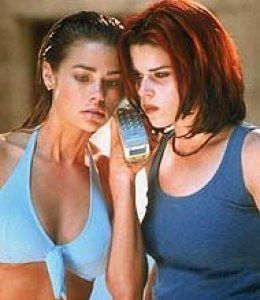 The 1998 raunchy thriller Wild Things had many men adding Neve Campbell and Denise Richards to their fantasy files.
According to Variety, the sexually-liberated duo is teaming up again for Backstabbers, with Wild Things writer Stephen Peters and director John McNaughton. The gang's all back together, and Mandalay is footing the bill.
The film however, will not be a sequel to Wild Things. That was already made in 2004, and you can check your nearest bargain bin for a dust-collecting copy of Wild Things 2, probably sitting right next to Cruel Intentions 2.
Backstabbers is a sexy thrill-ride about a rich New York man who masterminds his wife's kidnapping (hopefully with better results than the Fargo scheme). Unbeknownst to him, his mistress and bodyguard are planning to throw a wrench in his plans.
Mandalay has been developing the project for several years, and it has changed titles (from Trophy Wife) and directors (John Herzfeld). Hopefully it won't also change casts, because Neve and Denise sure could use the work.
Your Daily Blend of Entertainment News