Who May Be On Iron Man's Side In Captain America 3: Civil War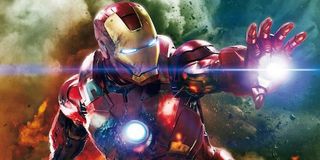 Tony Stark and Steve Rogers won't be the only heroes feuding with each other in Captain America: Civil War. Just like in the original comic book storyline, other characters will choose sides in the titular conflict; some will support the Superhuman Registration Act, others will be firmly against it. The nature of the film rights behind certain Marvel characters means that the teams can't exactly match the comic book versions, but new information has come out about who may be siding with whom in the 2016 blockbuster.
Warning: Potential spoilers for Captain America: Civil War are ahead!
A report from JoBlo has broken down the teams that will be forming in the third Captain America installment. Iron Man's team, all of whom are in favor of registration, will be comprised of War Machine (Don Cheadle), The Vision (Paul Bettany) and Ant-Man (Paul Rudd). They will be battling Captain America's team, who are all against registration, comprised of Black Widow (Scarlett Johansson), Hawkeye (Jeremy Renner) and Falcon (Anthony Mackie). Scarlet Witch is also mentioned to appear, although it doesn't state which side she will be on. Then there's Black Panther, whose involvement was announced last October. It's mentioned later in the piece that he'll have his own agenda, so don't expect him to publicly favor one side or the other. As for Spider-Man, who is reported to make his MCU debut in this film, his role hasn't been divulged yet.
As the article notes, almost every Avenger who doesn't have a solo franchise will be appearing in this film. The notable exceptions are Hulk and Quicksilver, though I suspect Avengers: Age of Ultron will answer why they're not involved. As for Thor, we already know he'll be busy dealing with the events of Thor: Ragnarok. If this information proves true, that means that 11 superheroes will be appearing in Captain America: Civil War, which is the same amount as Avengers: Age of Ultron if you count War Machine and Black Widow. Admittedly it doesn't come close to the amount of superheroes that participated in the 2006 story, but it's still an impressive lineup.
Some of these match-ups make sense. War Machine and Falcon are both good friends with Iron Man and Captain America respectively, so it makes sense that they would side those ways. Black Widow has a good work dynamic with Captain America, and given how close Hawkeye is with her, it makes sense that his ideological beliefs would match hers.
With Vision, perhaps since he has powers of his own, he realizes more than most that super-humans need to be regulated, which is why he'll side with Iron Man. Ant-Man is the biggest surprise player, since there hasn't been any indication of what Marvel's plans are for him following the release of his solo film. However, should we see him, Scott Lang will evidently be busting out his Giant-Man powers, so that will come in handy for the Iron Man team. As for Black Panther, you can be sure that whatever he ends up doing will be for the good of his country, Wakanda.
You can see the Marvel heroes in conflict with each other when Captain America: Civil War is released on May 6, 2016.
Your Daily Blend of Entertainment News
Connoisseur of Marvel, DC, Star Wars, John Wick, MonsterVerse and Doctor Who lore. He's aware he looks like Harry Potter and Clark Kent.
Your Daily Blend of Entertainment News
Thank you for signing up to CinemaBlend. You will receive a verification email shortly.
There was a problem. Please refresh the page and try again.