Black Widow's Plans In The MCU Changed Drastically, Find Out Why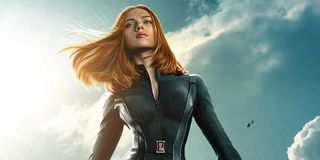 We are coming to the end of Marvel's Phase 2 and heading into Phase 3, where we'll get to see the likes of Doctor Strange, Black Panther, Captain Marvel and the Inhumans get their own standalone movies. But, after all this time, we still haven't seen a solo Black Widow film. Marvel's Kevin Feige heard our cries for more Natasha Romanoff, and he is taking action. According to Scarlett Johansson, her contract with the studio has drastically changed to respond to the success of her character.
The actress, who will appear as the ass-kicking Avenger in Age of Ultron, spoke with Collider at the press junket for the film. During a discussion pertaining to the future of Black Widow and whether we might still see a movie of her own, Johansson said that her contract is changing with the tides.
Part of this evolution has been her continuous appearances in the standalone Marvel movies. Though she wasn't originally contracted to appear in Captain America: The Winter Soldier, Johansson said that her storyline seemed to fit so well into what was happening with Steve Rogers (Chris Evans). As the demand for more Black Widow increases, we should expect to see more of her in the MCU in this capacity. After Age of Ultron, she'll be seen in Captain America: Civil War, alongside Iron Man, Cap, Hawkeye, Black Panther, Falcon, The Winter Soldier and, presumably, the newly minted Spider-Man, whoever that ends up being. From there, it seems likely that we'll see her pop up in more standalone movies, as her role in the MCU becomes more fluid than it already is. But will we ever see a solo Black Widow movie?
At one point early on, Marvel had put work into a hypothetical Black Widow movie with Nicole Perlman. She revealed last year that she wrote a treatment for it at some point around the end of 2010 into 2011, but it did not move forward. Johansson, however, thinks that there's still room for one in the crowed MCU slate. She even spoke to Feige about doing so, and, according to her, he also wants to see the character get her own solo run. But plans haven't moved beyond the theoretical. Johansson said in the interview:
For now, we'll get to see Black Widow in Avengers: Age of Ultron in a just a couple weeks time, beginning on May 1. By the looks of the trailers, she'll have a lot more involvement in the events to come.
Your Daily Blend of Entertainment News