Who Voices Toy Story's Woody When Tom Hanks Is Too Busy To Do It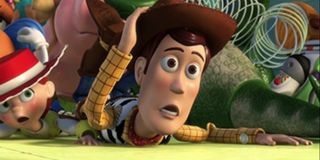 Tom Hanks has a signature voice that's unmistakable. He's lent it to Toy Story for the role of toy cowboy Woody in three films, and a fourth is on the way. Well, as it turns out, we've been misled for quite some time.
In a clip unearthed from The Graham Norton Show archives by The Huffington Post from back in 2011 — it's practically from ancient times at this point — the British talk-show personality interviews Hanks, during which time he confronts him with a Woody doll. After asking the actor if it's his voice we're hearing come out of said doll, Hanks said,
So it seems Tom Hanks doesn't have such a unique voice after all. Hanks explained during the segment that, if there was something Woody-wise he didn't want to do, he'd say, "Get my brother Jim."
Watch the entire clip from The Graham Norton Show below.
Scrolling through Jim Hanks' list of credits, you can see just how much of Woody he portrays. To name a few, he's got the Disney Infinity, Kinect Fun Labs, Kinect Disneyland Adventures, Toy Story 3, Extreme Skate Adventure, and Toy Story Racer video games, as well as the Toy Story Midway Mania! short, the Toy Story Treats TV series short, and the 2000 film Buzz Lightyear of Star Command: The Adventure Begins.
Jim's day-to-day speaking voice sounds similar to Tom's, but once he gets that right register and timbre, it's difficult to discern the brothers. Watch this video of Jim mimicking his brother.
Not to say you're entire childhood was a lie, but I think you get the picture.
Tom Hanks, however, will return — or, rather, he better return — for Toy Story 4, which Disney and Pixar recently announced for release on June 15, 2018. John Lasseter teased during this year's D23 Expo in California that the "very special story" would feature Bo Peep, who reminds Lasseter a lot of his wife, Nancy. As he said on stage during the presentation, it's an emotional story inspired by his wife and one that's very personal to him.
Your Daily Blend of Entertainment News
Thank you for signing up to CinemaBlend. You will receive a verification email shortly.
There was a problem. Please refresh the page and try again.