Toy Story Almost Featured A Very Different Woody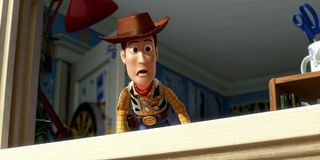 This year marks the 20th anniversary of the animated film that brought to life Andy's room full of toys, and audiences' imaginations. Toy Story marks the first ever Pixar animated feature film, and the beginning of a now 20 years of iconic animated films that will forever hold the test of time. But, the initial versions of the Toy Story scripts featured many different character traits in some of our all-time favorites, particularly the good-hearted cowboy Woody. Apparently Woody was first created as the very detached, and not-very-nice toy of the bunch.
In celebration of Toy Story's anniversary John Lasseter and president of Pixar, Ed Catmull participated in a panel discussion sharing stories about the making of the first-ever fully computer animated film (via Variety). Within the panel, Lasseter discussed some of the difficulties he faced in bringing his story successfully to life. He touched upon the many changes that had to go into the story, specifically, the character of Woody. Lasseter explained:
In the initial versions of Lasseter's toy room adventures, Woody was a cowboy ventriloquist dummy who spoke with a John Wayne-esque candor. The toy that we would later become beloved by all of his fellow toy friends in the Toy Story feature was at first a detached character who relished his position as Andy's favorite toy. While we see Woody's jealousy bloom when Buzz Lightyear takes the scene in the first film of the franchise, the initial version of Woody took it even further in actively trying to sabotage newcomer Buzz Lightyear.
The story was a bit more "adult" as Lasseter terms it, and the Disney Studio executives hated it. So he and his Pixar team went back to the drawing board with the mindset of creating a story that could attract to all audiences. That's when they came up with the new story that we all quickly fell in love with. The film would go on to take in more than $190 million domestically, receive three Oscar nominations, and help to begin what we now associate as the absolute magic of Pixar films.
The character of Woody, voiced by Tom Hanks in the Toy Story films has gone on to become an all-time favorite Pixar characters. And though Sheriff Woody certainly had his quirks, and often let jealousy take the best of him, his kind-hearted nature, and leadership skills always won everyone back over. Woody makes mistakes, like anybody could, but he always redeems himself in the end, making him a well-rounded character that always makes us smile.
You can catch Woody and the gang head back to the big screen when Toy Story 4 hits theaters June 16, 2017.
Your Daily Blend of Entertainment News
Thank you for signing up to CinemaBlend. You will receive a verification email shortly.
There was a problem. Please refresh the page and try again.