Here's What X-Men: Apocalypse Will Be About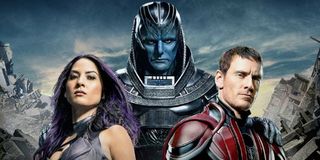 We've heard a lot about X-Men: Apocalypse, including intriguing casting choices such as Attack of the Show! alum Olivia Munn as Psylocke, Straight Outta Compton's Alexandra Shipp as Storm, and Game of Thrones' Sophie Turner as Jean Grey, but had yet to learn about the movie's storyline…until now. Thanks to a press release from 20th Century Fox, we now know the synopsis of the third film of this X-Men trilogy.
X-Men: Apocalypse centers around the awakening of the all-powerful entity Apocalypse, the most powerful mutant in the X-Men universe, and his unholy alliance with Magneto, played by Michael Fassbender. Professor X, played by James McAvoy, is tasked with assembling a young group of X-Men to fight off the threat. Here's the full synopsis:
The aforementioned cast members will be joined by Jennifer Lawrence of The Hunger Games and Silver Linings Playbook, who reprises her role as Raven/Mystique, as well as Nicholas Hoult of Mad Max: Fury Road, who returns as Beast. In addition, Rose Byrne returns as Moira MacTaggert, Evan Peters is back in the role of Quicksilver, and Lucas Till returns as Havok. Joining Munn, Shipp, and Turner in the cast as newcomers to the franchise are Ben Hardy as Angel, Tye Sheridan as Cyclops, and Lana Condor as Jubilee.
X-Men: Apocalypse is set to be the final iteration of the second trilogy following the gang of mutants. After the explosively popular first X-Men film in 2000, X2 and X-Men: The Last Stand followed. X-Men: First Class, released in 2011, served as a prequel to the original trilogy, and focused on the origins and early days of Professor X and Magneto. It was followed up in 2014 with X-Men: Days of Future Past, and X-Men: Apocalypse rounds out the spun-off trilogy.
Ah, but never fear, fellow X-Men fans. While this film, scheduled for release in 2016, may wrap up this series, several other spinoffs surrounding popular characters from the universe are on the way. These include a third Wolverine film, which will reportedly mark the final appearance of Hugh Jackman as the clawed hero, Gambit with Channing Tatum in the lead, and the long-awaited Ryan Reynolds-starring Deadpool.
Your Daily Blend of Entertainment News
Thank you for signing up to CinemaBlend. You will receive a verification email shortly.
There was a problem. Please refresh the page and try again.