Why Avengers 2 Had To Change Ultron In A Very Fundamental Way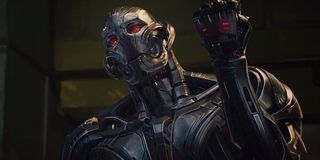 Among the lineup of villains the Avengers have faced over the last five decades, Ultron ranks near the top. Time and time again he's faced Earth's Mightiest Heroes and given them a run for their money, so it's appropriate that he was picked as the titular antagonist for Avengers: Age of Ultron. Heck, he was even able to conquer and remake Earth in his image in the original Age of Ultron story. Not many supervillains can put that on their list of accomplishments. However, it's often necessary to make changes when adapting a comic book property for the big screen, and in the megalomaniacal robot's case, you won't be seeing him pack quite as heavy a punch as he does in the comics.
When asked by Empire Magazine whether he played around with Ultron's powers for Avengers: Age of Ultron, Whedon explained that the MCU's version of Ultron will not be as powerful as his comic book counterpart:
Whedon previously mentioned that Ultron's abilities would be scaled back, but the elaboration on why paints a better picture on what we can expect from the genocidal robot in the film. Rather than make him so powerful that he's near-omnipotent, he's keen on exploring the villain's personality, what's motivating him to wipe out the human race and his own weaknesses, whether they're physical (maybe he has an off switch on the back of his neck) or mental. This also explains why he enters into an alliance, albeit temporary, with Scarlet Witch and Quicksilver. If he was as powerful as he is in the comics, he'd wouldn't need any assistance from those primitive, biological beings. So if you're wanting the Avengers to face a near-invincible adversary, you'll have to wait until Thanos gets his hands on the Infinity Stones and Gauntlet in the Avengers: Infinity War movies
While Ultron's insanity has been effectively demonstrated in the previews, we've only caught brief glimpses of his powers, like shooting energy blasts, controlling an army of robot minions and upgrading to give himself a mouth. Depending on whether the movie keeps Ultron's hypnotic abilities, he may also be the one responsible for Hulk freaking out in the movie, forcing Tony Stark to don the Hulkbuster armor and go toe-to-toe with the green giant. That would explain why Hulk's eyes are bloodshot and is causing more chaos than usual.
Avengers: Age of Ultron will be released in theaters on May 1.
Connoisseur of Marvel, DC, Star Wars, John Wick, MonsterVerse and Doctor Who lore. He's aware he looks like Harry Potter and Clark Kent.
Your Daily Blend of Entertainment News
Thank you for signing up to CinemaBlend. You will receive a verification email shortly.
There was a problem. Please refresh the page and try again.