Why The Black Panther Movie Is Important, According To The Writer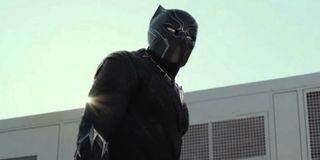 On the page, superheroes come in all shapes, sizes, and colors; that's not exactly the case when it comes to the screen though. For all the different powers and origin stories, on screen superheroes have become decidedly monochromatic in recent years. Despite the abundance of superheroes hailing from different ethnicities, the first black superhero, Black Panther, still has a way to go before his first solo movie hits theaters in 2018. With such a historic event looming, those associated with Black Panther seem to have an acute understand of the film's importance
Speaking with Mother Jones, Black Panther writer Joe Robert Cole explained the importance of properly bringing Black Panther to life on the silver screen:
Black Panther comes at an incredibly volatile time in American history with regards to race relations. Between accusations of police brutality, disproportionate incarceration of African Americans, and even lack of representation within our cultural institutions, bringing a black superhero to the big screen properly represents a major moment for the black community. Between Joe Robert Cole, director Ryan Coogler, and lead actor Chadwick Boseman, Black Panther is a movie made by people with an acute understanding of the black experience, and as a result of that understanding they have the ability to properly communicate a type of culture and character that really has never been fully fleshed out on the silver screen before.
This doesn't necessarily mean that the Marvel Cinematic Universe is completely devoid of people of color; the MCU features numerous black heroes. However, the problem lies in the fact that most of the non-white protagonists in any of Marvel's franchises have been relegated to essentially sidekicks and secondary characters. Falcon and War Machine have both experienced increased responsibilities on the Avengers roster, but at the end of the day they still exist to support the stories of Steve Rogers and Tony Stark, respectively. Bringing Black Panther into the mix really represents the first time a non-white Marvel hero has had the opportunity to take center stage.
Black Panther isn't the only effort for an increase in nonwhite superheroes. On Marvel's Netflix platform, black superhero Luke Cage will soon get a series of his own, and many rumors have persisted lately suggesting that Marvel had met with Asian American actors to portray Iron Fist – although we can neither confirm nor deny such rumors. Across the aisle at DC, Warner Bros. have cast black actor Ray Fisher to portray Cyborg, as well as Pacific Islander Jason Momoa to portray Aquaman. It's a slow path to progress, but progress nonetheless.
Despite our excitement for the Black Panther solo movie; we still have quite a way to go before it actually hits theaters. Chadwick Boseman will premiere as the character in the Marvel Cinematic Universe when Captain America: Civil War hits theaters on May 6, and Black Panther will arrive in theaters in 2018.
Your Daily Blend of Entertainment News
Originally from Connecticut, Conner grew up in San Diego and graduated from Chapman University in 2014. He now lives in Los Angeles working in and around the entertainment industry and can mostly be found binging horror movies and chugging coffee.