The Hilariously Honest Reason Chadwick Boseman Gave For Wanting To Play A Superhero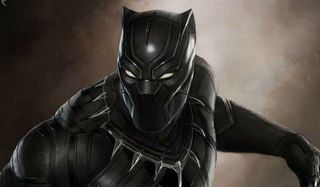 Chadwick Boseman may have recently won himself the coveted role of Black Panther in the Marvel Cinematic Universe, but the 38-year-old actor doesn't have a Golden Globe or an Oscar under his belt. After playing James Brown in Get On Up, his performance was one of those that got snubbed. But he's not letting that get him down, because being a superhero is way better, according to him.
The Santa Barbara Independent conducted an interview with Boseman and asked if he was worried about getting slighted by the Academy and HFPA. The short answer is that he's not. The longer and more hilarious answer is this:
At least you can actually play with an action figure, whereas a Globe statuette would just be sitting atop your mantle pulling focus from everything else in the room. Who wants that?! A Marvel role does have a similar effect as a Globe or an Oscar. Though the latter two are more prestigious, depending on who you ask, these superhero roles have propelled their respective actors into super-stardom. Robert Downey Jr., for one, received widespread mainstream popularity because of Iron Man. And Chris Evans, back then a little known heartthrob actor in films like Not Another Teen Movie and the egregious Fantastic Four, quickly became an A-lister after landing the role of Captain America. It also positioned him well to explore some of his passion projects, including smaller films like Snowpiercer and directing. As for Chris Hemsworth, if it wasn't for all the rigorous training he had to endure to become Thor, he might not have been named PEOPLE's Sexiest Man Alive.
As such, Boseman was thrilled to accept the role of Black Panther. He had a blast coming out on stage with Downey and Evans to make the reveal at that special Marvel Phase Three fan event. On November 3, 2017, we'll get to see him tackle the character in his own standalone movie. But we'll see him introduced in Captain America: Civil War, and whether he'll actually appear in Avengers: Age of Ultron or not, he'll at least be teased. We've already seen Wakanda-bound industrial ships, and it was recently reported that Andy Serkis will be playing Black Panther villain Klaw. And who is that mysterious woman everyone is talking about in the last trailer? Could she be from Wakanda, as well?
Chadwick Boseman is coming into the MCU at an exciting time, as various reports anticipate major changes coming down the road. The actor also confirmed to the Independent that, like most of the other Marvel actors, he is locked into a multi-film contract — five films to be exact. Aside from Civil War and a Black Panther movie, he's got three others, which makes his inclusion in the epic two-part Avengers: Infinity War all but confirmed.
Your Daily Blend of Entertainment News