Why Is Everyone Being Such A Jerk About The Dark Knight Rises?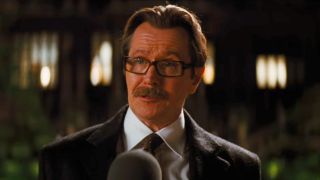 (Image credit: Warner Bros. Pictures)
I'm not going to sit here and tell you superhero movies are supposed to be fun-- Christopher Nolan has proven with all three of his Batman films that the genre can be gloomy and serious and also great, and more often than not, when movies aim to be "just a lot of fun" they wind up terrible. But talking about superhero movies-- not even superhero movies, but any movies-- is supposed to be fun, whether you're screaming at somebody about their total misunderstanding of the end of The Shining or geeking out together about all the Easter Eggs you spotted in Star Trek. Even if you don't love the people you're debating with as much as you love the movies themselves, they're partners in cinephilia-- everyone comes at it with an opinion, and the fun part is digging into it together.
So, seriously, why is everyone being such a jerk when it comes to The Dark Knight Rises? From the moment the review embargo lifted early on Monday, the knives were out for any critic who dared dislike it, and the comments on the first negative review were so nasty and threatening that Rotten Tomatoes shut down the comments on the site, explaining their reasoning in a post called "This Is Why We Can't Have Nice Things." The Rotten Tomatoes comments section is always kind of a nightmare-- the worst, nastiest comments I ever get are always there-- but the conversation around The Dark Knight Rises quickly turned into a lynch mob. Cry freedom of speech all you want, but if that kind of hateful conversation were happening in real life, you'd shut it down in the interest of public safety.
Presumably the majority of the people spewing all this bile have not yet seen The Dark Knight Rises, and are attacking someone for having an opinion on something they know little about. Presumably they'll also be seeing The Dark Knight Rises this weekend, and their fierce commitment to defending it comes from a place of genuinely wanting to enjoy it. So why does that excitement curdle into hate? Why does liking something translate into loathing everything that's different from it? This is nothing new, of course-- fans went bananas on the first negative reviews for The Dark Knight too, and pretty much any time one of our critics dares to even slightly dislike a big movie, the hostile comments come quickly (on my own, generally positive review, the hate is evident). But acknowledging that this phenomenon isn't new doesn't mean we can't ask why it happens, and wonder why fandom has to turn so ugly at the slightest provocation. It genuinely makes it less fun to anticipate a movie, knowing that along with the excitement, there will be this kind of shapeless, menacing rage threatening to pop up the minute someone dings the movie half a star in their review.
Because no matter what the critics say, no matter what the Rotten Tomatoes score, The Dark Knight Rises will still be in theaters this weekend, for you to adore or scorn on your own terms, and then hopefully feverishly discuss, online or in person, for weeks after. No one can take that away from you. So why scream and yell as if they can?
Your Daily Blend of Entertainment News
Staff Writer at CinemaBlend