Why The Fantastic Four Cast Was Told Not To Read Comics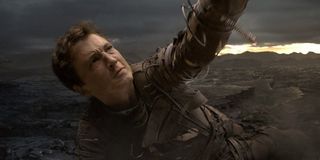 While Marvel Comics' distinguished dysfunctional team will see a film franchise reboot this summer in The Fantastic Four, a long-running point of contention among the fans seems to be the differing descriptions of just how much the new movie will adhere to elements of the comic book canon's 50+ year history. Star Miles Teller may have rekindled the issue in a recent interview in which he implies that he and the cast were instructed not to delve too deep into the comic books since the film would not be going out of its way to resemble those materials.
In an interview with MTV News, Miles Teller, who plays the superbly pliable Reed Richards/Mr. Fantastic in the upcoming film, claims that, despite his own independent efforts to "educate" himself for the role by reading comic book source materials, the film's creative forces seemed to think it was a pointless errand. As Teller reveals,
The quote seems to mirror something said by co-star Kate Mara last year, in which she implied that she, a non-comic fan, was told not to read up on source material since "the plot won't be based on any history of anything already published." That apparently controversial comment would cause her publicist to immediately go into damage control, releasing a statement claiming that she was misquoted. Thus, with Teller's latest comments, this point of contention seems to have been moved back to square one.
Yet, the apparent desire to keep a lid on the film's possible non-adherence to the classic comic book canon already seems to contradict what we've been seeing. Teller's description of the film's mission statement seems to echo the dark, almost ominous tones depicted in the recent trailer. Clearly, director Josh Trank and screenwriter Simon Kinberg have taken the traditional, upbeat, optimistic Fantastic Four story and put it down a character-driven pathological path. At the same time, its overall tone seems difficult to gauge, even for Teller, who couldn't even knowledgeably answer if the film would carry even a slight level of humor and comic relief. That could be a problem, especially for a film with a sequel in the works.
With confirmed radical differences in the team's origin story and some non-traditional creative casting -- especially in the case of Michael B. Jordan's Johnny Storm/Human Torch, who is ethnically altered from the comic books -- it's clear that this film is defining itself more as a "re-imagining." However, while those things may be superficial, it does leave one to wonder if the tonal liberties the film is taking, which rumored comparisons have evoked the name of horror/thriller mastermind, David Cronenberg and even Steven Spielberg, might relegate the film to being somewhat of a sideshow to the current celebrated crop of comic book films.
With that genre undoubtedly dominated by the visually bright, more energetic Marvel Studios Avengers-centric epics, one would think that a film like The Fantastic Four may want to ground itself in a more lighthearted motif and then cull the drama from the likeability of the characters, themselves. What we've seen of the film is undoubtedly intriguing, but it didn't necessarily make us fall in love with the characters.
Regardless, the fans will render the final verdict on this imaginative new rendition when The Fantastic Four hits theaters with form-altering force on August 7.
Your Daily Blend of Entertainment News