Mr. Fantastic's Powers Are Causing An Unusual Problem For The Fantastic Four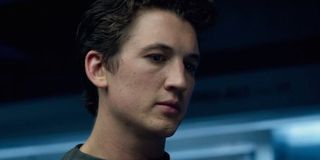 The Fantastic Four has been cementing itself as a superhero movie that's moving as far away from its comic book roots as possible. The tone is more grounded, the main antagonist's background has been changed and the first trailer looked more like a preview for a sci-fi flick than a comic book adaptation. Now team leader Mister Fantastic's powers are causing enough of an issue that the production has adjusted what his elasticity will look like on the big screen.
While chatting with Empire Magazine (via ComicBookMovie.com), actor Miles Teller implied that fans shouldn't expect Reed Richards' stretching powers to be represented the same way in the reboot as seen in the comics or previous movie series.
So far Reed is the only member of the team whose powers haven't been even slightly glimpsed, although there was a quick shot of Reed in the trailer reaching out as if to stretch. Teller comment about the "gummy guy" is correct, though short-sighted. Superpowers are already unrealistic, but Reed's stretching powers take it to the next level. Other than comic books, the next place to find such abilities is in a Looney Tunes bit. However, this is a movie starring characters who can turn invisible, set themselves on fire and turn into a giant rock monster humanoid, so no matter what the filmmakers have done, all their powers are going to look bizarre to a degree.
One possibility is that while Reed will still be able to stretch, he won't be able to go to as great lengths (see what I did there?) as his comic book counterpart. After a certain point it hurts for him to extend further, giving him more vulnerability. If that's the case, then we probably shouldn't expect to see Reed turn himself into a ball or morph the lower half of his body into a spring. That can be saved for when DC gives us a live-action Plastic Man.
It's also interesting that Miles Teller would say that Reed doesn't have any control, since in the comics he has perfect control over his entire body and just stretches it in an exaggerated manner. However, it's important to keep in mind that this is an origin story for the team, so Reed may suddenly finding his arms, legs and face suddenly drooping down uncontrollably, and it will be difficult for him to rearrange himself to look normal. Perhaps gaining superpowers from an alternate dimension isn't all it's cracked up to be.
The Fantastic Four will be released in theaters on August 7.
Connoisseur of Marvel, DC, Star Wars, John Wick, MonsterVerse and Doctor Who lore. He's aware he looks like Harry Potter and Clark Kent.
Your Daily Blend of Entertainment News
Thank you for signing up to CinemaBlend. You will receive a verification email shortly.
There was a problem. Please refresh the page and try again.