Why Finding Peter Parker Shouldn't Be First On Marvel's Priority List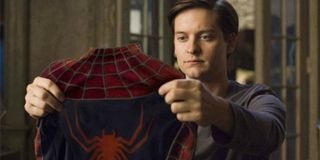 According to recent reports, Sony has narrowed its search for the next Peter Parker down to five candidates, ranging from Nat Wolff (The Fault in our Stars) to Asa Butterfield (Ender's Game). It's still believed that Peter Parker and his masked alter ego, Spider-Man, will make his debut in 2016's Captain America: Civil War, setting the stage for the first Marvel standalone Spidey film on July 28, 2017.
But at the moment, I couldn't care less who gets to play Peter Parker next. The five mentioned actors sound fine. Pick either of them. Pick someone else. Because while I think it's important to find a talented actor to eventually play Peter Parker in Marvel's first pure swing at an MCU Spider-Man movie, I think this casting decision is probably the fifth or sixth most important thing the studios need to be worrying about if they're ever going to deliver the Spidey fans have been waiting for.
Interestingly enough, it was Marvel's foray into Netflix (opens in new tab) television that opened my eyes to this fact. Daredevil was an exquisite introduction, not only to Matt Murdock, but to the neighborhood that's so crucial to his story: Manhattan's gritty but colorful Hell's Kitchen. Granted, the Netflix series had time to properly develop Murdock's various arcs over a 13-episode run. But Daredevil worked because all of the elements around the hero were phenomenal. The braintrust found the right creator in Drew Goddard, the right showrunner in Steven S. DeKnight, a handful of imaginative screenwriters and directors to handle each episode, and a brilliant supporting cast. Charlie Cox is a great Matt Murdock, and a serviceable Daredevil. But if we're being honest, any number of actors could have worn the suit. I kept coming back to Daredevil episode after episode to mainline more from Vondie Curtis-Hall, Bob Gunton, Rosario Dawson, Scott Glenn and, of course, Vincent D'Onofrio as Wilson Fisk, aka The Kingpin.
This is what Marvel's first official Spider-Man movie needs, far more than it needs a new Peter Parker. It needs the right director, someone who has extreme passion for the material and an understanding of the hero, both in and out of the costume. (Obviously, I'm ecstatic that Daredevil's Drew Goddard remains a rumored director of the 2017 Spider-Man movie. Who can I hand my money to at Marvel to make that happen?) It needs talented screenwriters who can develop characters – supporting and main – and aren't impatient about rushing to the next empty action set piece. Movies don't have showrunners, but Spider-Man could use an adviser – a consigliere – who manages conversations between Sony and Marvel to ensure that THIS time, Spider-Man hits the mark.
And the untitled Spider-Man movie needs the right villain. I can't stress this enough. More than getting the right Peter Parker, Sony and Marvel have to make sure that the right villain is in place for Spidey to face. That's a make-or-break decision that easily could elevate or torpedo the new saga before a frame of film is shot. D'Onofrio's portrayal of the maniacal Kingpin cemented this belief. But he wasn't the lone antagonist in Daredevil. Leland Owlsley (Gunton), Nobu (Peter Shinkoda), and Gao (Wai Ching Ho) were captivating villains whose existence laid the groundwork for future avenues that the Dardevil show can explore. I think you can argue that the decision to position OsCorp as the overall villain in Marc Webb's Spider-Man movies doomed that reboot from the start.
Ah, the Webb reboot. A cautionary tale that many will point to as they wonder if Sony can learn from its recent mistakes. Yes, I'm a defender of the work Webb did. But I also acknowledge the two-film franchise didn't engage fans, which is why Spidey is back to square one, and facing a third possible strike.
But recall that with the Webb films, particularly in the first movie, few thought Andrew Garfield was the problem. And whomever they cast in the new film won't be the problem… or the ultimate solution. Peter Parker is Peter Parker. He can't change drastically. The elements around him, however, are where Marvel, Sony and the MCU will make their mark. So find your Peter. Then settle in and make the even more important decisions, the ones that will ultimately shape Spider-Man's cinematic future.
Your Daily Blend of Entertainment News
Sean O'Connell is a journalist and CinemaBlend's Managing Editor. He's frequently found on Twitter at @Sean_OConnell. ReelBlend cohost. A movie junkie who's Infatuated with comic-book films. Helped get the Snyder Cut released, then wrote a book about it.
Your Daily Blend of Entertainment News
Thank you for signing up to CinemaBlend. You will receive a verification email shortly.
There was a problem. Please refresh the page and try again.