Why Frozen 2 Won't Happen Any Time Soon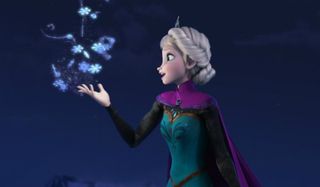 Stop saying Frozen 2 is going to happen. It's not going to happen… at least, not any time soon. While it has been assumed that Disney would want to return to the world of their highest-grossing animated movie, co-directors Jennifer Lee and Chris Buck say the media is mostly to blame for that rumor. (Although, Idina Menzel had a lot to do with it, too.) In a recent interview, the duo tried to set the record straight once and for all, and while they're fairly confident that a sequel will happen, it won't be in the near future.
Jennifer Lee and Chris Buck created Disney's biggest animated sensation since The Lion King. But as the duo confessed to BuzzFeed, they only returned for the new short film, Frozen Fever, for one reason. And it's this same reason that'll ultimately decide the fate of Frozen 2.
It's no easy task to up the ante after you've reached a movie milestone. It's for this reason that Lee and Buck were pretty ambivalent about returning to work on even a Frozen-themed short. As Buck described, there's that "drop-the-mic thing" after you've achieved such widespread acclaim. Frozen won Best Animated Feature Film at the 2014 Oscars, in addition to Best Original Song for "Let It Go." The catchy tune's singer, legendary Broadway actress Idina Menzel, has received even more fame for her role of Elsa.
After John Travolat's dubbed her "Adele Dazeem," Menzel told The Telegraph in an interview that Frozen 2 was "in the works." Soon after this quote was released, it hit the digital fan and spread all throughout the Internet. In doing damage control, she went on the Today show and took it all back. She said that, like the rest of us, she merely presumed Disney had a follow-up in store. As of right now, though, Lee and Buck reiterated to BuzzFeed that Frozen 2 has not officially been green lit.
You can return to the world of Frozen in theaters this weekend when Frozen Fever screens in front of Disney's live-action Cinderella. The Oscar-winning music and lyricist team of Kristen Anderson-Lopez and Robert Lopez composed a post-"Let It Go" number for the affair. So, naturally, expectations are pretty high.
Your Daily Blend of Entertainment News