Why The Gremlins Reboot Might Not Happen Anymore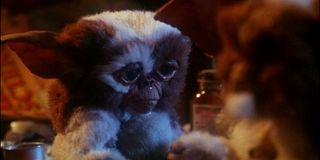 The creepy, mini-monster Gremlins have been on the radar in recent months due to news of a reboot in the works. However, much to our dismay, the latest reports are saying that a new film is probably not going to happen anymore.
The announcement came from writer and producer Seth Grahame-Smith (Abraham Lincoln: Vampire Hunter), who has been leading the charge on the recently announced Gremlins reboot, and word is that it's highly unlikely we're going to see tv-loving Gizmo up on the big screen anytime soon. Grahame-Smith discussed the project with Entertainment Weekly and told them how he brought his treatment for the film to the original film's executive producers, Steven Spielberg and Chris Columbus, but that was as far as it got. He said:
News of the Gremlins Reboot began surfacing in early 2013, when word quickly spread that Warner Bros. Pictures had begun discussions with Spielberg's Amblin Entertainment about the potential of resurrecting the iconic '80s monsters. All went dark for a while until last year when, out of nowhere, the project was said to have hit the studio's fast track.
Other than that little promising nugget, not too many details have emerged about the film other than original Gremlins star Zach Galligan's joining the conversation, around the time of the film's 30th anniversary, to voice his excitement for the reboot. He had nothing but good things to say about his experience working on the first film with fellow cast member Phoebe Cates and vocalized his interest in joining the project.
Gremlins first hit theaters in 1984. It was written by the above-mentioned Columbus and directed by horror legend Joe Dante (The Howling, Amazing Stories). The film follows a boy who accidentally breaks the sacred rules of his new pet Mogwai—never expose it to sunlight, never let it get it wet and never feed it after midnight. We all know how that turned out!
The followup film Gremlins 2: The New Batch, also written by Columbus and directed by Dante, was released in 1990. While certainly not as good as the original, it was still quite entertaining. If another Gremlins reboot ever does get off the ground, Columbus and Dante will hopefully be attached as I cannot see another team who could possibly be more instrumental in the film's success. And let's be frank, Spielberg will absolutely have to have a hand in the project for it to reach its fullest potential.
Your Daily Blend of Entertainment News
Thank you for signing up to CinemaBlend. You will receive a verification email shortly.
There was a problem. Please refresh the page and try again.