Why It's Really Important Kung Fu Panda 3 Doesn't Suck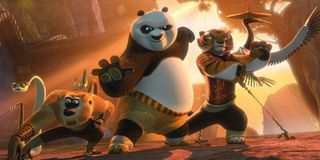 As you may have read about in multiple recent reports, DreamWorks Animation is currently experiencing a good number of money woes. Multiple features in recent years haven't clicked at the box office quite as well as expected, and as a result the studio has been forced to change the way that they look at their future, and do a good bit of restructuring. One result of these shifts is that there is now a good deal of pressure on the upcoming Kung Fu Panda 3 to both come in on time and make money, and according to recent reports, moves are being made to try and ensure its success.
DreamWorks has made a move to have filmmaker Alessandro Carloni join the already-hired Jennifer Yuh as a co-director on Kung Fu Panda 3, hoping that his assistance on the project will help the movie stay on track for its March 18, 2016 release date and provides the studio with enough material to run a strong promotional campaign in the months leading up to its deadline. Furthermore, the upcoming sequel is part of a studio plan to have one franchise movie come out per year.
According to Deadline, Yuh isn't apoplectic about the decision, but instead believes that the addition of Carloni as a partner at the helm will ensure that the film is completed on time and in both a competent and timely manner.
Looking at the numbers, it's not hard to see why there's so much pressure on Kung Fu Panda 3 to succeed. DreamWorks Animation needs a financial triumph at the box office. As we reported yesterday , the company hemorrhaged money in their fourth quarter of last year as the result of the failure of Penguins Of Madagascar among other issues. All in all, the movie reported a loss of $247.7 million.
Penguins Of Madagascar was just the latest in a long line of failures for the studio, which began back in 2013 with Rise of the Guardians.. Since then, Turbo and Mr. Peabody & Sherman's failure to connect with an audience, and only added to the studio's financial mire. Most alarming is the fact that DreamWorks has written off $155.5 million because of films that haven't even made it to the big screen yet and keep getting pushed. It's not hard to see why "on time" is such an important factor for Kung Fu Panda 3 now.
The idea of having one DreamWorks Animation franchise film come out per year will hopefully be what the studio needs to get back on its feet, and in between those titles we can cross our fingers that they will start coming up with more original stuff that could get them to explore new directions.
Rather than being a sign of desperation, hiring Alessandro Carloni - who has previously worked as the head of story on How To Train Your Dragon 2 - proves that DreamWorks Animation is giving Kung Fu Panda 3 the best possible chance of success. This is the second big alteration on the film in recent months, as its release date was originally pushed back to March 2016 from December 23, 2015. Which was another smart move, because they certainly don't need a burly gang of Jedis threatening to steal the Panda's thunder.
Your Daily Blend of Entertainment News