Why Jack McBrayer Is Really Confused About Wreck-It Ralph 2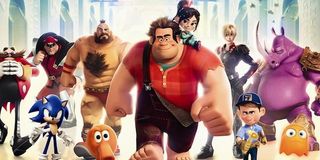 Back in 2012, Walt Disney Animation Studios had a big hit on their hands with Wreck-It Ralph, which went on to earn more than $471 million worldwide. A sequel has been talked about ever since, and though star John C. Reilly announced he has signed on for Wreck-It Ralph 2 back in July, another star, Jack McBrayer, is a bit confused about his status on the project.
Screen Rant caught up with the former 30 Rock star to talk about his latest movie, the horror comedy Cooties, and asked him about reprising his role as Fix-It Felix. When asked how much he knows about the upcoming sequel, McBrayer said:
To be sure, he's playing coy to some extent, but it doesn't sound like he knows much, if anything, about Wreck-It Ralph 2 at this stage. Later on, when asked if Felix plays into the story at all, McBrayer remarks how awkward it would be if the character has somehow been written out of this world.
When a small arcade closes for the night, the real action of Wreck-It Ralph is just beginning. Free from their duties at what amounts to day jobs, the various video game characters roam between consoles and have a rich outside life that includes friends, relationships, and apartments, and resembles your average normal life. In the middle of all of this is Wreck-It Ralph (voiced by John C. Reilly), the Donkey Kong-esque villain of Fix-It Felix, Jr. Dealing with the emotional toll of playing a bad guy is taxing, so Ralph tries to land a gig in a popular new first-person shooter, leaving his own game in the lurch and in danger of being unplugged—unplugged games leave their characters homeless. To prevent this, Felix goes in search of Ralph, who is on an adventure of his own.
As he's a key part of the story and the movie, it would indeed be weird if Felix doesn't show up in Wreck-It Ralph 2. Things have definitely changed by the end of the movie, but it's hard to imagine a scenario where he isn't a part of the action.
For his part, McBrayer doesn't seem too worried, as he's well aware that animated movies like this tend to take years to come together. Still, he implores the interviewer that, if she hears anything about the film, to let him know. He does, after all, have bills to pay.
There's no word on when we might see Wreck-It Ralph 2 materialize or what it will be about, but director Rich Moore will reportedly be back. He even mentioned an idea he had where Ralph encounters multiple versions of himself from sequel, spinoffs, and what have you, which could be a fun way to play the sequel.
Your Daily Blend of Entertainment News
Thank you for signing up to CinemaBlend. You will receive a verification email shortly.
There was a problem. Please refresh the page and try again.