Wreck-It Ralph 2 Happening And A Big Name Character May Finally Appear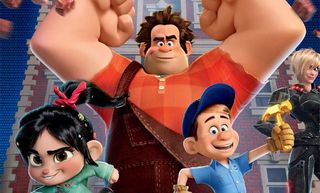 Wreck-It Ralph was one of the biggest hits of the 2012 fall season, netting more than $200 million worldwide on the power of family audiences, with kids attracted to the candy-colored world and parents getting nostalgic for the video games of their youth. When you've got a movie that's such a big hit, and especially when it's coming from Disney, you can pretty much assume a sequel will be next-- but now have we gotten confirmation that it's happening, and from a very unlikely source.
When Wreck-It Ralph opened in Australia, Moviehole caught up with stars John C. Reilly and Sarah Silverman, and interviewer Clint Morris allowed his five-year-old daughter to get the last question, which naturally was "Will there be more Wreck-It Ralph." Turns out the answer is yes! Here's Reilly explaining how they know it:
It's not just the actors who are willing to talk about Wreck-It Ralph 2-- director Rich Moore, who says he wouldn't dream of handing the sequel over to another director, is also in on the scheme, and already has ideas of which character he'd like to include next time around.
Mario gets a shout-out in Wreck-It Ralph but doesn't appear, and while he might be the most high-profile video game character who doesn't make an appearance, he's surely not the only one fans might like to see next time. So with Wreck-It Ralph 2 almost certainly happening, let us know which other video game characters you want to see next time in the comments! With an entire world of arcade games to choose from, there's no lack of options.
UPDATE! In a recent interview with Collider, Wreck-it Ralph composer Henry Jackman revealed that Disney is still working on the story for Wreck-It Ralph 2. The great thing is that he reconfirms what we already knew about the sequel, that "it is officially on the cards."
So what will Wreck-It Ralph 2 be about? Back in February of 2013 Wreck-It Ralph director Rich Moore had this to say: "Are there other Ralphs [in this world we were introduced to in the original]? What would happen if another Fix It Felix, Jr. game was plugged in? Are there other Ralphs that are more contemporary? Is there another version of the game that was made for mobile? Are there those kind of Super Smash Bros types games where all the characters are gathered in a fighting game? What would that be like for Ralph to come face to face with those different iterations of himself?"
Your Daily Blend of Entertainment News
Staff Writer at CinemaBlend
Your Daily Blend of Entertainment News
Thank you for signing up to CinemaBlend. You will receive a verification email shortly.
There was a problem. Please refresh the page and try again.