Why John Cusack Thinks Hollywood Is A Whorehouse Of Kiddie Porn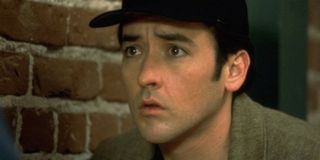 John Cusack believes that the way modern Hollywood makes movies is akin to a "whorehouse," while he's also compared its treatment of actresses to "kiddie porn." Why don't you tell us what you really think, John?
It's always been quite obvious that Cusack didn't completely fit in with Hollywood. The Grosse Point Blank, Con Air, and High Fidelity star has always had this uncomfortable aura around him that has leant itself nicely to his cinematic personality. In fact, he's never looked completely comfortable in front of the camera, which is probably why audiences have always seemed to gravitate to both him and his characters. However, in his interview with the Guardian to promote his role in David Cronenberg's takedown of Hollywood, Maps To The Stars, Cusack appears to be not just beaten and worn-out, but refreshingly honest about what he has seen during his career.
"I got another 15, 20 years before they say I'm old. For women it's brutal," Cusack explained, before he mentioned a line from Bruce Wagner's script for Maps To The Stars that he believes, rather than being satire, is heartbreakingly prescient:
Cusack's assault on the Hollywood machine didn't stop there though, and the Illinois native was quick to lay the blame for the devolution of the medium on the studios and their relenting pursuits to release franchise after franchise. "In modern Hollywood, the franchise is king, the star is used as leverage. You can't make it up. It's a whorehouse and people go mad," he proclaimed.
John Cusack is still a part of this business though. And between 1989 and 2000, he starred in a whole host of classic and cult movies that turned him into one of the most intriguing and in-demand actors of his era. Since then, his choices have been more erratic, and while the likes of Max, The Paperboy and The Butler had their moments, he has mostly been seen in movies that are quite frankly beneath his talents. I'm looking at you Must Love Dogs. In fact, Cusack admitted that he ended up as an actor almost by accident. Simply put, John Hughes' Sixteen Candles was being filmed in Chicago and was looking for 16-year-olds, and, as Cusack recalled, he "was 16 when they wanted to make films about 16-year-olds in Chicago."
In the end though, Cusack has one last thing to say about this business of show that hundreds of millions of people across the globe dream of becoming a part of: "Why wouldn't you have contempt for the movie business? It sucks most of the time." The problem is, he's pretty much right about everything.
Your Daily Blend of Entertainment News
Thank you for signing up to CinemaBlend. You will receive a verification email shortly.
There was a problem. Please refresh the page and try again.