Why Jurassic World Chose That Mysterious Hybrid As Its Villain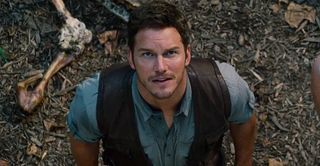 The first trailer for Jurassic World was released to a fairly positive reception among Jurassic Park fans, but after learning of the film's "big bad", the question couldn't help but be asked: why a genetically mutated hybrid dinosaur? Do you mean to tell me that in the entire dinosaur population, there simply was not a dino big and scary enough to slake the thirst of today's moviegoers? Colin Trevorrow, the co-writer of the Jurassic World screenplay and the film's director seems to think so.
Trevorrow spoke to the use of a "new" dinosaur--that rumored to be called the D-Rex-- in an interview with Empire Magazine:
With the introduction of this allegedly-named D-Rex-- I hope this name isn't anything more than a rumor--does that mean we're not going to be seeing anymore of the T-Rex? After all, that dinosaur is one of the film franchise's most iconic beasts, and it's also the one dinosaur that almost any casual dinosaur fan can easily identify. When Empire asked Trevorrow if we'd see any T-Rexes in Jurassic World, Trevorrow was quick to assure his fans, "You bet your ass you will."
Like the other Jurassic films, the humans will be running from several dinosaur threats, not just the D or T-Rex. As we see in the teaser, we'll get more raptors in the film (though if the trailer is any indication, Chris Pratt managed to gain their trust and tame them...or something). Even more than raptors, we'll get a bit of a closer look at the aquatic beast, the mosasaurus. You might remember this guy from the trailer. He was the one chowing down on an entire great white shark. When asked about the crazy snack option for the mosasaurus, Trevorrow had this to say:
Jurassic World is clearly going to be a one-way ticket to Crazytown, for sure. However, I'd be lying if I said I wasn't incredibly excited for this new Jurassic film. Sure, the premise may be nuts, but the Jurassic Park films know how to make a fun, exciting dinosaur movie. I know I'll be there to see this movie the weekend it premieres. You can get your very own ticket to Crazytown when the movie hits theaters on June 12, 2015.