Why Jurassic World's Director Had Big Problems With The Trailers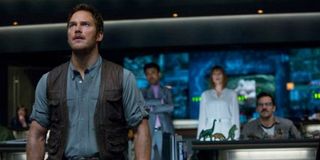 There is a natural conflict between the filmmaker and the studio, according to Jurassic World director Colin Trevorrow. The duty of the former is to storytelling, while the duty of the latter is to sell the film to audiences. Those conflicting interests cultivate uneven ground, which was the case when the first trailers for Jurassic World came out. In light of everything these promos revealed, Trevorrow ended up having lots of problems with the marketing campaign.
In an interview with IGN, the filmmaker had an opportunity to vent about these issues. He said:
If you recall, the first Jurassic World trailer showcased CG-heavy dinosaurs, teased the Indominus Rex, and featured a lot of action, including that now famous scene of Chris Pratt leading his herd of raptors on the back of a motorcycle, mere moments after we see a scene of him struggling to keep these vicious beasts under control. If it were up to Trevorrow, he would've kept this moment close to the vest. Both he and IGN pointed out that it works so much better when placed in the context of the film. Trevorrow said that we spend a great deal of time earning this moment, watching Pratt's Owen Grady train the raptors, protect his co-worker from being torn up, and grappling with the military's desire to weaponize them.
Trevorrow also explained that Jurassic Park 3, specifically, did not perform as well as the studio needed. So for them to spend all this money financing Jurassic World, they needed to be assured of its success and its originality. It was this desire to get the most bang for their buck that Universal's trailers, collectively, featured everything from the Indominus Rex reveal to explosions (the helicopter falling into the aviary) and people running for their lives in terror.
These statements from Trevorrow come around the same time Terminator Genisys helmer Alan Taylor spoke about these same issues with his own film. He told UPROXX that he was shocked by how much of the film was spoiled by the trailers, namely how that certain someone ended up being an evil robot. According to Taylor, he had "a few unpleasant conversations" with the studio.
Though the spoiler-y trailers didn't work quite so well for the latest Terminator — its box office numbers after a five-day debut are disappointing — Jurassic World continues to thrive. It broke a number of records and is currently the highest-grossing movie of summer 2015. It also bested Terminator, Inside Out, and Magic Mike XXL at the box office this past holiday weekend.
Your Daily Blend of Entertainment News