Chris Pratt Finally Picked His Favorite Jurassic World Meme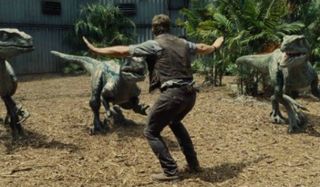 Ever since Jurassic World turned into a pop culture phenomenon last month we've all had one question that's been bothering us: what is Chris Pratt's favorite Jurassic World meme? Well, there's no need to worry anymore, because the fantastically handsome and amicable actor revealed the answer to this pertinent question, and it's simply the cutest.
Damn! Even a cynical old coot like myself can't help but be impressed with this selection. Good choice, Chris Pratt, good choice.
This is yet more proof that Chris Pratt just so happens to be one of the coolest people on the planet. Heck, even his Guardians Of The Galaxy director, James Gunn, as well as astronaut Buzz Aldrin, felt the need to like his picture.
After Jurassic World sauntered its way to several box office records, the internet soon became awash with thousands of people – chief among them zookeepers – replicating Pratt's pose as Owen Grady in the blockbuster, specifically the moment when his character restrained three raptors that planned to attack and devour one of his employees.
Don't know what we're rambling about? Are you one of the seven people left in the world who still hasn't seen Jurassic World? Well, take a gander at the clip of Owen controlling Blue, Delta, and Charlie below. It will probably convince you to flock to the cinema immediately.
In fact, so many fine memes were created in tribute to this moment that you would have thought it impossible to single one out for praise, but you're unlikely to find anyone who will complain about Chris Pratt's choice. And if they do, then they're cold, heartless bastards. Or blind. If it's the latter then that's really not their fault though.
Jurassic World continues to stampede across the worldwide box office. In fact, over the weekend it's been predicted that the dino-tastic adventure will rollick past Avengers: Age Of Ultron's gross, and Forbes has reported that by the end of Sunday its total will be somewhere between $1.38-1.39 billion. It's still up in the air whether the film will maintain this momentum to reach $2 billion, but either way, Jurassic World has already more than exceeded expectations.
Your Daily Blend of Entertainment News
Thank you for signing up to CinemaBlend. You will receive a verification email shortly.
There was a problem. Please refresh the page and try again.