Why Kate Mara Still Hasn't Watched Fantastic Four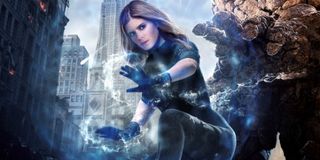 If you can't see something, it doesn't exist, right?
Kate Mara, the actress who played Sue Storm, aka Invisible Woman, in Fox's Fantastic Four reboot, still hasn't seen the film. A week or so before the film dropped into theaters, the four lead stars admitted to press that they hadn't seen it then either, and for fans it was just another nail in the coffin. Now that the movie is out as one of the biggest superhero bombs of all time and critical reception stripped it of all its dignity, she's been avoiding seeing what everyone is talking about.
Mara recently spoke with the U.K.'s The Times (opens in new tab) and said that the reason she hasn't seen the flick yet is because of all those harsh words the majority of us have been spewing. Though she said she'll eventually get around to see it, the reviews made her "a little bit gun-shy."
Frankly, who can blame her. According to the reports coming out of the Fantastic Four production, she had it harder than most of the other actors. Josh Trank, who directed the film, made it known to the studio that he did not want Mara to play Sue Storm, and yet that's what happened anyway. Instead of moving past it, he allegedly was anywhere from "abusive to cold" in the treatment of her. With that in mind, Mara continued to reiterate to The Times that she enjoyed the time she spent making the film.
However, the actress touched upon the infamous tweet from Trank. On August 6 at 9:43 p.m., the director wrote,
He deleted it shortly after, but nothing ever truly goes away on the Internet and the damage was done. Mara called the act "highly disappointing."
As for the future of Fantastic Four 2, which the studio still has scheduled for theaters on June 9, 2017, she said she has "no idea" if they will ever make another one. This contradicts recent comments made by producer-screenwriter Simon Kinberg, who told MTV News that he is "really focused on the next one." The actors weren't fully in the loop on what was happening with the first one, so perhaps there's still hope for a sequel. Before all this drama went down, there was also that rumor that X-Men helmer Bryan Singer was considering directing FF2 in order to cross them over with his mutants, though that chatter lost steam. It seems the cards are still falling, so we'll have to wait to see where they land.
Fantastic Four starred Kate Mara, Miles Teller as Reed Richards, Michael B. Jordan as Johnny Storm, Jamie Bell as Ben Grimm, and Tobey Kebbell as Victor von Doom.
Your Daily Blend of Entertainment News
Thank you for signing up to CinemaBlend. You will receive a verification email shortly.
There was a problem. Please refresh the page and try again.