Why Kodi Smit-Mcphee's Nightcrawler May Differ In X-Men: Apocalypse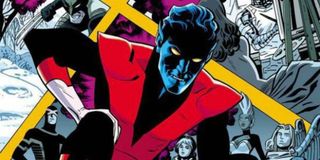 Just a couple months ago Dawn of the Planet of the Apes star Kodi Smit-Mcphee was announced as the new, younger version of Nightcrawler to show up in the upcoming X-Men: Apocalypse. Now, as further progress on the film is made, Smit-Mcphee has opened up on his character, and whether it will be different from Alan Cumming's portrayal of Nightcrawler in 2003's X2: X-Men United.
The 18-year-old actor sat down with Superhero Hype to discuss his upcoming role in Bryan Singer's Apocalypse and naturally the question came up on how much Alan Cumming's last performance as the character would play into Smit-McPhee's take. To which he answered:
Allowing himself to naturally become Nightcrawler after researching the character seems like the perfect approach. Put all that info into mind, but let his strong acting translate it all in his own unique way. And I have complete confidence in Smit-McPhee's process. The 18-year-old actor may be young, but he already has quite the resume with impressive performances in the movie adaptation of The Road and also in the horror film, Let Me In.
It will be especially exciting to see whether or not this young Nightcrawler will play stronger homage to the comics, as many comic book fans have critiqued Cumming's approach for lacking the humorous qualities associated with the character. Being a much younger version of the Nightcrawler could definitely allow for a more colorful portrayal.
Among his other new youthful counterparts including Sophie Turner as Jean Grey, Alexandra Shipp as Storm, Tye Sheridan as Cyclops to join the team, a few returning X-men will be added to the mix as well. Just yesterday, Bryan Singer confirmed that Lucas Till's Havok will return and earlier this week yet Olivia Munn was announced as Psylocke. Returning veterans, Xavier (James McAvoy), Magneto (Michael Fassbender), Beast (Nicholas Hoult), Mystique (Jennifer Lawrence) and most likely Evan Peters' Quicksilver will return. Ben Hardy will portray Angel, Lana Condor as Jubilee and Oscar Isaac as the titular villain. It's a huge cast, and it seems like Singer wants to get all the X-Men in for the fight. We'll see how it all comes together when X-Men: Apocalypse hits theaters May 27, 2016.
Your Daily Blend of Entertainment News