Why Kristen Bell's Kid Didn't Really Care For Frozen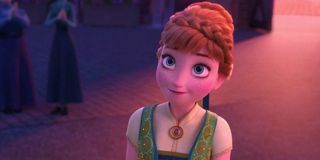 By this point, everyone on planet Earth has heard, loved, and then eventually become annoyed by the songs from Disney's animated hit Frozen. But while Kristen Bell helped to create and sing new classics like "Do You Want Build A Snowman?," "For The First Time In Forever," and "Love Is An Open Door," it turns out that she never felt the full force of her own children endlessly singing them for days, weeks, and months on end. That's because Kristen Bell has now admitted that her daughter isn't really into the hit film, it may have been a bit too scary.
Kristen Bell made this revelation to Yahoo, but rather than suggesting that neither of her two daughters – 3-year-old Lincoln and 1-year-old Delta – just plain old aren't fans of her work, the actress insisted that they're still just too young for it. In fact, her eldest daughter hasn't even started properly watching TV yet. She said:
What that means is that Kristen Bell and her husband Dax Shephard have some pretty brutal times ahead. Because when both Lincoln and Delta are finally impressed by the obviously endearing film and then learn that their mother not only performed in Frozen, but also appeared as Princess Anna and sang some of the catchiest numbers in Disney history, they're going to want to recreate it, endlessly.
I'm guessing that while Kristen Bell will sing her own numbers, her children will probably want do Idina Menzel's parts. Which will be rather adorable. Especially since YouTube's now full of videos of teeny toddlers doing their own versions, some of which have as many as 60 million hits. Don't understand why? Then just watch the below video and try not to get all the feels.
Basically, Kristen Bell is in for a rather torturous time of it once her daughters actually become impressed by, and obsessed with, Frozen, especially since Disney is currently developing a sequel to the hugely popular musical. Bell, as well as her co-stars Idina Menzel, Josh Gad, and Jonathan Groff, have already made it very clear that they want to return for Frozen 2, and with Princess Anna having fallen in love with Kristoff at the end of Frozen, audiences will be dying to see if and how the pair's romance blossomed.
Unfortunately, we're still not quite sure when Frozen 2 is actually going to be released. But since the original is the most successful animated comedy of all time, grossing over $1.2 billion, Disney will probably want it pretty sharpish.
Your Daily Blend of Entertainment News