This Is What Frozen 2 Might Be Called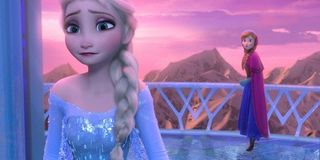 Is a Frozen sequel going to happen? Optimistic fans of the animated behemoth think so after Disney registered several domain names for an upcoming film that people have now started to think may eventually turn into the homepage for Frozen 2.
Disney fan site Stitch Kingdom were the first to spot this cyber revelation. According to the website, Disney registered several domain names on Thursday that seem to suggest they will release a film with the title, Strange Magic, and the leading theory is that it could possibly be a subtitle for a Frozen 2. But how have they reached this conclusion? Well, it turns out that there are actually two references to "strange magic" in the 2013 Walt Disney Animated feature. In the movie, both Grand Pabbie (voiced by Ciarán Hinds) and Duke of Weselton (voiced by Alan Tudyk) use the phrase. You can even see the latter doing so in this television spot for the most successful animated film in the history of motion pictures.
Of course both of these characters are referring to Princess Elsa's ability to construct frozen objects with ice that fires out of her hands. So does this mean that Frozen 2, a.k.a. Frozen: Strange Magic, will arrive in cinemas in the very near future? It's hard to say - but there are plenty of other ways in which the Frozen brand is expanding. Not only is there a Frozen Fever short film in production that will be released in Spring 2015, but a Broadway musical is also currently in the works too.
Of course, there is also the quandary to consider regarding whether or not we actually need a Frozen 2. The first film was a joyous singular entity that wrapped itself up with aplomb. Surely there is no need to return to Arrendelle to see what Princess Elsa, Anna, Kristoff, Sven and Olaf are up to. But that isn't the way that the movie business works. And the fact that Frozen went on to gross over $1.2billion around the world means that a sequel is now pretty much inevitable. It doesn't matter if it wrecks the reputation of the original. All that matters is that Disney capitalizes on the success of the first film and makes as much money as possible. Frozen 2 could still turn out to be a triumph that enhances the first film and opens up the franchise to endless possibilities, though.
Of course we could just be incredibly wide of the mark. Who knows, maybe Disney are just planning to release a film called Strange Magic in the near future.
Your Daily Blend of Entertainment News
Thank you for signing up to CinemaBlend. You will receive a verification email shortly.
There was a problem. Please refresh the page and try again.