Why Marvel Changed Daredevil From A Movie To A Netflix Show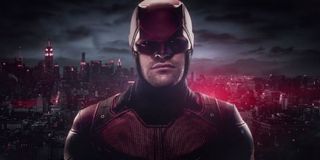 After the shit show that was Ben Affleck's Daredevil, the "man without fear" returned to Hell's Kitchen for Netflix's first Marvel original series from Drew Goddard. As it turns out, though, we could've gotten another big-screen adaptation. In a new interview, the series showrunner opened up about why Daredevil made the move from feature film to Netflix original.
Goddard wrote the screenplay for Ridley Scott's The Martian, and it was while out promoting this film that IGN caught up with him. After the conversation turned its attention to Daredevil, Goddard revealed that he spoke with Marvel "a couple years ago" about making a Daredevil movie. These talks ultimately led nowhere, which ended up working out for him because Netflix ended up being a better home for the character.
In speaking about the move to Netflix, Goddard said,
Since the first Iron Man, Marvel's cinematic universe has been pegged as a family affair, one that appeals to a wide range of audiences, and an R-rating would certainly detract from that. Netflix, meanwhile, is its own entity of sorts. But there was another major hangup in preventing a movie version: as Goddard explained, Marvel is all about going big with alien invasions, world-changing events, and the like. The character of Matt Murdock, on the other hand, isn't about fighting spaceships, but instead focuses on the small-scale objective of keeping his neighborhood clean. His vision for the character wasn't going to fit as a Marvel movie in the MCU.
At the end of the day, it was a smart move. Although Marvel and Netflix initially announced four standalone series (Daredevil, Jessica Jones, Luke Cage, Iron Fist) and one crossover miniseries (The Defenders), the success of Daredevil prompted both parties to greenlight a second season. The Walking Dead's Jon Bernthal will portray Frank Castle/The Punisher, and G.I. Joe: Retaliation's Elodie Yung will play assassin Elektra (first played by Jennifer Garner in the Ben Affleck film). Stick (Scott Glenn) will also return for a three-episode arc in season 2 on a mission that Matt wants no part of. Deborah Ann Hall, Rosario Dawson, and Elden Henson will reprise their roles.
Daredevil will be hitting up New York Comic Con next month, and though it's unclear if we'll be getting any new information on season 2, there will be a lookback on the best moments from season 1. If anything, though, the cast of Jessica Jones will appear on stage for the first time during the convention. So there's that.
Your Daily Blend of Entertainment News
Thank you for signing up to CinemaBlend. You will receive a verification email shortly.
There was a problem. Please refresh the page and try again.