Why Marvel Opens Its Superhero Movies Overseas First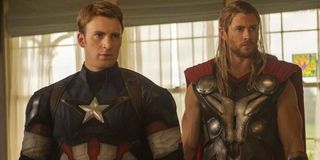 By now, fans across the globe have had the time to experience and mentally digest the epicness that is Avengers: Age of Ultron. However, for the ones in just about every major country besides the United States, that time period has actually been longer. Per the habit of Marvel Studios, the film was released to moviegoers in several countries as early as April 22; over a week before it made its way to screens in the U.S. on May 1st. Now, Marvel Studios President Kevin Feige has revealed exactly why Marvel movies are usually released this way, and the answer has everything to do with international holidays.
Kevin Feige recently attended a Q&A session after a special screening of The Avengers: Age of Ultron, and a user on Reddit reported back his responses to questions on multiple subjects. However, one question notably inquired about the overseas-first release strategy for Marvel movies. The producer/executive revealed that the method came about as an experiment that stems back to the release of Iron Man 2 in 2010 and Thor in 2011 - each domestically released in early May of their respective years. Essentially, the approach was considered after realizing that several countries observed holidays in the end of April, making it advantageous for box-office numbers to get the films out early during those leisure-filled periods. The move didn't seem to hurt the numbers, so the habit simply continued from that point forward.
Feige also hinted at other advantages to the overseas sneak-peeks, stating that a film's impending release in the U.S. market can sometimes gain momentum it would not otherwise have enjoyed by touting prospectively impressive foreign numbers. Consequentially, The Avengers: Age of Ultron went into its May 1st domestic debut touting a $201 million foreign tally, already making back most of its $280 million budget and landing it at #10 overall in that category, just behind last year's China-boosted Transformers: Age of Extinction. Thus, there is evidence that early releases serve as valuable buzz, despite the fact that it lifts the veil of mystery behind the film's various plot secrets, due to international internet chatter.
However, American fans obsessive enough to be angry at "not being first" to see these spectacular cinematic events may also rest easy in knowing that with tardiness, sometimes comes a modicum of privilege. In a sense, the oversees audiences are a test group, denied late, last-minute additions to the film that, even within the miniscule time frame of days could still be added. As pointed out by Feige, a specific example of this is the famous post-credits "Schwarma" scene from 2012's original The Avengers, where the film's battle-worn heroes celebrate saving the world by chowing down on a meal. The scene was apparently shot in Beverly Hills on a last-minute callback of the cast and wasn't even finished on time to make the international release of the film. So, which audience got to enjoy that iconic Easter Egg of a scene first? Folks in the good 'ole U.S. of A, that's who!
Call it an example of increasing cultural hegemony of Hollywood, call it a necessary expansion of business in an ever-changing industry, but the foreign film market is only becoming increasingly critical. Creative release strategies like the one regularly exercised by Marvel, taking an expanding field of variables into account are simply a sign of the broader breadth of their global proliferation.
Your Daily Blend of Entertainment News
Thank you for signing up to CinemaBlend. You will receive a verification email shortly.
There was a problem. Please refresh the page and try again.