What Robert Downey Jr. Learned From Iron Man 2's Mediocrity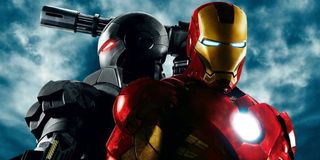 Marvel Studios wasn't always the superhero movie giant that it is today. Prior to the massive success of The Avengers, the films were hit and miss, and Robert Downey Jr.'s Iron Man movies were most reflective of this. While the first one did extremely well, the second one was a let down. But as with any hiccups, RDJ learned a valuable lesson in his path to becoming a mega superstar.
During an interview, Empire magazine asked the actor about what he learned from the underwhelming Iron Man 2, now that he and his fellow Marvel stars are trying to replicate the success of Avengers. He said:
RDJ previously admitted to The LA Times that Iron Man 2 was dissatisfying and disappointing. After Marvel began establishing its shared cinematic universe with Iron Man, something went wrong with the sequel. While we don't want to put words in their mouth, the film seemed like a lazy attempt, which seems to be what RDJ is getting at. The mindset seemed to be that no matter the content, the film would do well because it's part of the Iron Man franchise. They were right to some extent, as Iron Man 2 took the top spot at the box office two weeks in a row. However, it didn't exceed expectations and the film as a whole is widely thought of as the weakest link in the MCU chain.
It's this kind of sequel disaster RDJ is hoping to avoid with Avengers 2. There already seems to be a lot of elements going on — Ultron and his army of robots, Scarlet Witch and Quicksilver, the Black Panther Easter eggs, that mysterious woman wading into a pool of water, Loki's scepter in Baron von Strucker's lair, Hulk vs. Hulkbuster, and The Vision. As we learned from films like Spider-Man, more does not mean better. Fortunately, RDJ praises his director Joss Whedon for being "specific" and "holding himself to a higher standard," while at the same time "enjoying himself a bit more."
We'd be surprised if Avengers 2 ended up as a repeat of Iron Man 2's misgivings. Early beginnings aside, Marvel has delivered hit after hit, even going so far as to transform a virtually unknown property into the next big sensation (Guardians of the Galaxy). In addition to the first Avengers' success, Whedon has had a hand in just about every one of the installments leading up to Age of Ultron. He's only got this one movie left before he retires from the MCU — at least, that's what it sounds like. We expect he'll go out with a bang.
Your Daily Blend of Entertainment News