Why Marvel TV/Movie Crossovers Are So Hard To Pull Off In The Movies, According To Its President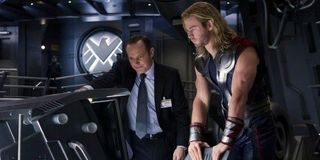 Marvel Studios have created the blueprint on how to build both big and small screen universes. The tales of The Avengers, Captain America, Thor, and Iron Man continue to thrive in cinemas, while Daredevil, Jessica Jones, and Agents Of SHIELD are just as successful on Netflix and TV. But there's been very little crossover between these two mediums. And now Marvel's head-honcho Kevin Feige has come out and explained why that's the case, admitting that it's just too difficult logistically.
Kevin Feige made this revelation to io9 after being asked point blank when a crossover between the small and big screen will take place. As usual Kevin Feige gave a wonderfully honest answer to the question, admitting that doing so just isn't fair to either medium.
That's bad news for those of you that want to see Charlie Cox's Daredevil stood alongside Chris Evans' Captain America, Robert Downey Jr.'s Iron Man, or Mark Ruffalo's The Hulk any time soon. However, reading between the lines slightly, you'll have noticed that Kevin Feige's response still leaves the door open for a potential crossover to occur.
It just has to be done right. And doing things right is something that Marvel Studios has excelled at. The stuttering start to the DC Extended Universe proves just how difficult it is to expand these stories, and the fact that Marvel are coming up to ten years since they began their universe with only one notable failure – sorry The Incredible Hulk – is hugely impressive.
But while Kevin Feige has looked to downplay discussions about Daredevil and Jessica Jones joining the cinematic big leagues there's a chance that he might be lying to us. Earlier this year, Joe and Anthony Russo confirmed that 68 Marvel characters will be appearing in Avengers: Infinity War Part 1 and Avengers: Infinity War Part 2.
Obviously they refused to reveal further details on who will be in the fray, but there's the distinct possibility that this could include one or two scenes with some of Marvel's best TV characters. Obviously we won't know until these films are released on May 4, 2018, and May 3, 2019, respectively. While we've still got the small matter of Captain America: Civil War to contend with, which will finally hit cinemas on May 6.
Your Daily Blend of Entertainment News
Thank you for signing up to CinemaBlend. You will receive a verification email shortly.
There was a problem. Please refresh the page and try again.