Why Nicole Kidman Is Probably Out On Wonder Woman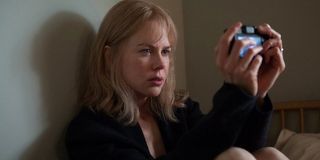 As Warner Bros. and DC gear up to deliver an expansive, interconnected universe based on their cache of comic book characters, there's been a lot of talk about the upcoming Wonder Woman. The character will first pop up next year in Batman v Superman: Dawn of Justice, played by Gal Gadot, but she'll get her own solo movie in 2017. There were reports that Nicole Kidman was going to join the cast, but that's not going to happen, and now we know why.
This would have been Kidman's second time in an adaptation of a DC property, as she appeared opposite Val Kilmer in 1995's Batman Forever. Justin Kroll of Variety took to Twitter to reveal that due to scheduling conflicts, the Australian actress will not be able to join the party. However, another fantastic actress, Robin Wright, could take her place.
We don't know a ton about the plot of Wonder Woman, or which characters from the comics will appear, but the rumor going around was that Kidman was up for the part of Hippolyta. In the comics, she is the queen of the Amazons and the mother of Wonder Woman.
It's unclear right now whether Robin Wright will actually take Nicole Kidman's place or if the Patty Jenkins-directed movie will find someone else to fill the now open slot. It appears that Wright had already signed on to do the movie before Kidman was being courted, so the nature of her role is not known at this time. From these messages, it sounds like Wright and Kidman were going to play different characters, but now that Kidman is off the table, Wright could step into whatever that role was.
We'll have to wait and see how all of this develops, but it will be interesting to watch, and it's hard to go wrong casting Robin Wright.
Though it's still a ways off in the distance, a lot of people are excited for Wonder Woman, which will mark the first big time superhero movie fronted by a female character. Not to mention that she's one of the oldest, most popular comic book characters of all time.
We'll get our first look at Wonder Woman in action when Batman v Superman: Dawn of Justice hits theaters March 25, 2016, and her solo adventure opens everywhere June 23, 2017.
Your Daily Blend of Entertainment News
Thank you for signing up to CinemaBlend. You will receive a verification email shortly.
There was a problem. Please refresh the page and try again.