Why The Purge 3 Completely Changed Directions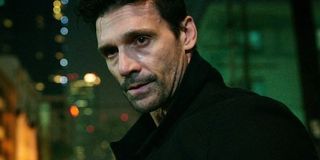 With a combined budget of $12 million, 2013's low-budget dystopian home invasion flick The Purge, and 2014's follow up, The Purge: Anarchy, made $200 million. With a franchise that profitable, The Purge 3 was always a certainty. What wasn't always so sure was the direction of the sequel, though one big addition forced the production to drastically change directions.
Frank Grillo starred in The Purge: Anarchy, though his participation in The Purge 3 wasn't a given. Just last week, Universal announced that he will be back for more. It was an unexpected move—they didn't even have a script featuring his Sergeant character—and talking to Slashfilm, Grillo says writer/director James DeMonaco had to start over from scratch. He says:
Using the same lead character for two movies in a row is a bit of a departure for the young franchise. The first two movies are set in the same world, but revolve around different leads. In a near future, where all crime is legal for one night, because that apparently somehow leads to a drop in crime the rest of the year, The Purge is a relatively self-contained story about Ethan Hawke's character, a well to do sort with a serious security system, trying to keep his family safe from invaders in their own home. It's essentially a home invasion horror movie with a few sci-fi elements thrown in for good measure.
Set on the annual Purge night, The Purge: Anarchy takes the contained world of the first film and opens it up. Instead of a single family in the suburbs stuck in one place, it shows you the poor and working class in the inner city cope with the 12 hours of chaos. Grillo's character, Sergeant, is on a mission, something he's been preparing for. Grim, stoic, and near silent, not to mention heavily armed, he gets sidetracked helping some innocent people who get caught outside alone and ill-equipped to survive the night. A very different set up than the first film, Anarchy is a throwback to gritty, '70s era, exploitation-style B-movies, and Frank Grillo is a perfect fit.
While we don't have any details on The Purge 3 at the moment, it will be interesting to see how they go about integrating Sergeant into the story. In Anarchy, he's on a mission to kill the man responsible for the death of his son. Over the course of the night, he sees the error of his ways and the hollowness of revenge, or at least you think he does. Maybe he learned nothing and he's going back for another shot. His story, at least in regards to the Purge night, feels done at the end of the movie, so I'm curious to see what they do with him next.
We'll have to wait and speculate for a while, as The Purge 3 doesn't open until July 1, 2016.
Your Daily Blend of Entertainment News
Thank you for signing up to CinemaBlend. You will receive a verification email shortly.
There was a problem. Please refresh the page and try again.