The Purge 3 Is Happening, But Not As Quickly As You'd Like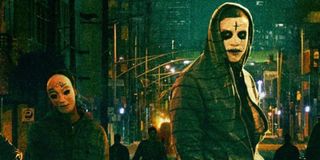 It's easy to remember all the good that The Purge does. It helped revitalize the horror movie genre with a unique storyline about the one night a year when crime is legalized, and it has proven to be a pretty big moneymaker. Now that The Purge 3 is in the works, Universal has finally set a release date for our next outing. But it turns out we'll have a lot longer to wait than we initially thought.
After the first film debuted in 2013, The Purge: Anarchy was quickly greenlit and rushed into production for a 2014 release. However, The Purge 3 is taking a bit more downtime and won't be hitting theaters this year. Instead, Universal recently announced that it will drop on July 1, 2016, just in time for one of the most patriotic days in our nation. Modern horror mainstay Blumhouse Productions confirmed the news over Twitter:
While the first film confined the action to the home of a wealthy family as richie rich Purge participants invaded, the second told a completely different story. Starring Captain America 2 villain Frank Grillo, Anarchy freshened things up by taking the action to the streets in an urban setting. It seemed like Universal was setting up this franchise to be a horror anthology, telling a variety of stories in one set world (and we'd be on board for that).
However, Michael K. Williams teased that the franchise is setting up something big for his character, Carmelo Johns, who heads up the kill-the-poor conspiracy rebels. Given this detail, assuming it holds true, a natural progression would be to set up a war between the lower and upper classes. In the world of The Purge, the rich have more safety because they can afford advanced home security, while the poor are left to slaughter each other.
Writer/director James DeMonaco will return to at least write the script for The Purge 3, while his directing return is still unofficial. Back before the third installment was given the go ahead, DeMonaco told Digital Spy of two ideas he was tossing around for its plot.
If he's going to continue the franchise's cash-cow legacy, he's going to have to find another interesting spin. What made The Purge so interesting was its unique take on the cliched home-invasion trope. The way the world is set up makes it easy to tell a variety of different stories, but the challenge becomes not repeating too much of the material at the risk of turning stale.
Your Daily Blend of Entertainment News
Thank you for signing up to CinemaBlend. You will receive a verification email shortly.
There was a problem. Please refresh the page and try again.