Why The Raid Remake Keeps Getting Pushed Back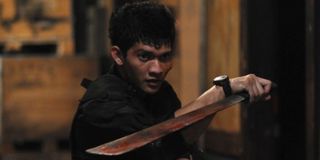 Back in 2011, Gareth Evans' Indonesian martial arts extravaganza The Raid pummeled worldwide action fans across the head, neck, and face. Sony bought the rights after it kicked everyone's ass at the Toronto International Film Festival, and in addition to distributing the film, they began developing an American remake through their Screen Gems arm. That project has been delayed time and again, and now we know why: they can't find the right person to star.
The Purge: Anarchy star Frank Grillo was attached to The Raid, and when Slashfilm caught up with the actor at the Television Critics Association summer tour, where he was promoting his MMA themed series Kingdom, he said:
Last we heard, Grillo wasn't the only one on board, as Taylor Kitsch was also going to star, with Patrick Hughes (The Expendables 3) attached to direct. As far as I can tell, Hughes is still on the clock for to helm the picture, but Grillo says that, though Kitsch was offered one of the lead roles, he passed to make True Detective season 2.
The Raid, marketed at The Raid: Redemption in the U.S., follows a group of Indonesian police officers as they infiltrate an inner city high rise completely controlled by a vicious drug lord. They have to fight their way to the top through level after level of villainous goons. It's a brutal free for all and launched star Iko Uwais to international acclaim. This is one of those paradigm shifting moments for the action genre, on par with when Ong-Bak dropped in 2003 and we all marveled at this tiny badass named Tony Jaa who just blew our collective mind.
Presuming this actually happens at some point, and that Grillo remains attached—and he better, because he's one of the few legit badasses with the necessary skills working in Hollywood who could pull this off—he will play one of the three main characters. This is most likely a version of Rama (Uwais), Jaka (Joe Taslim, Fast & Furious 6), or Mad Dog (Yayan Ruhian, Star Wars: The Force Awakens), but it's possible he could play someone else.
Keeping Grillo on this picture may be a tough task. He's enthusiastic about the project, but he's also increasingly busy. He has Kingdom going on, where he plays the owner of an MMA gym; but there's also his role in Captain America: Civil War; The Purge 3, which he just joined recently; and several others in the works.
We'll see if The Raid ever actually comes together. To be honest, I'm 100% fine if it never materializes, but just in case it does, who do you think should take the lead?
Your Daily Blend of Entertainment News
Thank you for signing up to CinemaBlend. You will receive a verification email shortly.
There was a problem. Please refresh the page and try again.