Why Renee Zellweger Basically Quit Hollywood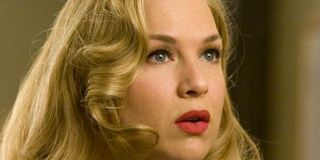 You might not have noticed, but Renee Zellweger hasn't been seen on the big screen since her performance in 2010's My Own Love Song. Which itself was hardly seen by anyone. Her self-imposed hiatus is finally coming to an end in 2016, though. But why did she decide to take such a lengthy break? She was fed up with the sound of her own voice.
Renee Zellweger made this admission while talking to Vogue, the cover of which she's emblazoned on this month. The 47-year-old actress admitted that she became so fed up of hearing herself on-screen that she decided to take a break from acting so that she could recuperate. Renee Zellweger explained:
It's hardly surprising that Renee Zellweger decided to take a break from the acting game in 2010. The preceding years hadn't been so kind to her, as she played roles in films that didn't quite manage to either get the best out of her or, quite frankly, work at all. Between 2008 and 2009, the Oscar-winning Cold Mountain actress appeared in George Clooney's attempt at a screwball sports comedy Leatherheads, which was a flop. Then the western Appaloosa, the road-trip period comedy My One And Only, and the psychological horror Case 39, each of which were also met with little enthusiasm and lowly box office returns.
Even Monsters vs Aliens, where she provided her vocal talents, went on to gross $381.5 million, and didn't earn enough to warrant a sequel. So when My Own Love Song failed to resonate with a wide audience, too, after hitting select cinemas in September 2010, Zellweger decided the time was ripe to take a break.
But place Renee Zellweger in a romantic comedy, and she's able to entice an audience. Even amidst the above under-performers, 2009's New In Town hauled in $29 million from just an $8 million budget.
Viewers with an affinity for Renee Zellweger led rom-coms will always see her as Bridget Jones, though. The allure of playing Bridget Jones for a third time has finally brought Zellweger back from the wilderness, and we'll get to see her in Bridget Jones's Baby later this summer. You can get a glimpse of Renee as Bridget once again by watching the trailer, below.
As well as returning as Bridget, Renee Zellweger also has the lead in the hard-hitting drama Same Kind Of Different Me. Fingers crossed that this is just the start of her resurgence, though, and we'll get to see even more of her in the coming years. Because, admit it, you've missed her.
Your Daily Blend of Entertainment News