Why Rose McGowan Hates Some Of The Directors She's Worked With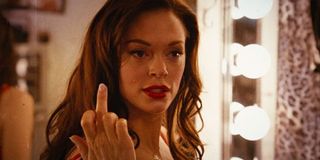 Rose McGowan has become quite vocal of her problems with the Hollywood industry as of late, particularly when it comes to some of the sexism she's seen and experienced. A couple months ago, the Charmed actress caused quite the storm, when she called out Adam Sandler for the wardrobe requirements for an audition in his movie. It ended up losing McGowan the job, and subsequently her agent, but that has only ignited a flame for the actress, making her even more vocal of her issues with the acting industry. Now, McGowan is going one step further and ridiculing some of the directors she has previously worked with.
In an interview with The Hollywood Reporter, McGowan opened up about this current turning point in her career, new music direction, and advocacy for women's rights. In the conversation, the actress and director discussed some of her previous experiences as an actress, particularly with directors. In a nutshell the actress sounds disgusted, calling the industry sexist and completely lacking of creating thinking. In her own words:
McGowan clearly has no filter in her experience. She didn't not name any names, because it seems that despite her annoyance with the industry, she doesn't want to come off as petty, but she certainly is not holding back in calling these directors lazy and uncreative. And the actress is experienced, to say the least. She has been on screen, a lot, in both movies and TV. Ranging from her beloved role in Charmed to more action-heavy Robert Rodriguez and Quentin Tarantino Grindhouse films.
While McGowan's blunt opinions may throw some off, she is joined by a handful of vocal female actors who are also speaking out on the issues they see within Hollywood from Helen Mirren to Kristen Stewart. And McGowan straight-up told THR that she could care less about whether or not her speaking out will affect her future opportunities. Whether or not her openness can initiate change is a matter we'll just have to wait to see.
Your Daily Blend of Entertainment News
Thank you for signing up to CinemaBlend. You will receive a verification email shortly.
There was a problem. Please refresh the page and try again.