Why Tim Burton Doesn't Like The Marvel Superhero Movies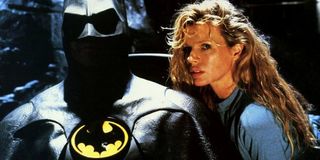 In some respects, Tim Burton is the godfather of this current superhero movie craze. Burton, along with Richard Donner, succeeded in making comic book movies of substance, and the success of Burton's Batman films (as well as Donner's Superman) planted the seed of what potentially could be accomplished by a major studio. Christopher Nolan might have escalated the process, but Burton laid the foundation. So now that he's critiquing the formula, it's interesting to see how (and if) contemporary filmmakers might react.
Tim Burton has shifted genres multiple times since directing Batman, dabbling in the macabre – as usual – but also attempting musicals (Sweeney Todd), sci-fi epics (Planet of the Apes) and unusual kiddie fare (Alice in Wonderland, Charlie and the Chocolate Factory). While out promoting a new biopic, Big Eyes, Burton spoke with Yahoo UK about the Marvel movies, and the director was less than impressed, stating:
The irony of that statement being that Tim Burton's Batman, as portrayed by Michael Keaton, likely gave birth to the sullen, morose and deadly serious superhero. This guy wasn't necessarily cracking jokes in between tackling maniacal criminals like The Joker. In fact, Batman's villains in the Tim Burton movies generally get credit for providing the levity, from Jack Nicholson's clown prince to Danny De Vito's Penguin. Keaton's Dark Knight was just that: dark.
And this is a fact that Burton acknowledges later in the Yahoo UK interview, though he does explain:
Tim Burton's likely referring to the Nolan Batman movies, because Marvel – despite the fact that they do have some adherence to formula – has succeeded in bringing humor into its action. Just look at James Gunn's Guardians of the Galaxy, a movie that boosts Chris Pratt's leading-man charms to movie-star level by pairing him with a raccoon and a tree. Burton might be right that the genre always needs to be refreshed, reworked and turned on its ear. But I don't think the state of the union is quite as dire as he states. Do you?
Movie junkie. Infatuated with comic-book films. ReelBlend cohost. Resident dad. Extroverted introvert. Wants to see the Snyder Cut. Managing Director at CinemaBlend.
Your Daily Blend of Entertainment News
Thank you for signing up to CinemaBlend. You will receive a verification email shortly.
There was a problem. Please refresh the page and try again.