Why The Vatican Finally Agreed To Watch Spotlight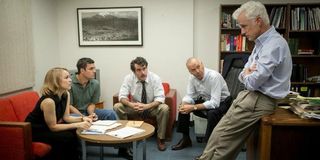 Officials from the Vatican commission on clerical sex abuse gathered in Rome on Thursday to watch a private screening of Spotlight. The drama documents the journalists investigating the sexual abuse of children by Boston priests, which was covered up by the Catholic Church. The film has been around for a few months now, but this viewing of Spotlight is the latest in a long line of milestones that the biographical drama has reached. After being released at the start of November, Tom McCarthy-directed film has been met with critical acclaim for its thorough yet sensitive depiction of this subject.
Members of the Pontifical Commission for the Protection Of Minors sat down to watch Spotlight on the eve of a three-day panel that was being held at the Vatican to address clerical sex abuse. While a number of key players were in attendance, according to the LA Times, Pope Francis probably didn't attend the showing of the Oscar-nominated film, and no reporters were allowed to attend the screening either.
This acclaim saw the drama pick up a myriad of awards over the last few weeks, while it also finished atop of numerous top 10 lists for 2015. Spotlight earned six Academy Award nominations, including Best Picture, Best Director, Best Supporting Actor for Mark Ruffalo, and Best Supporting Actress for Rachel McAdams.
A Vatican official has since confirmed that the Spotlight screening was actually not formal, and was instead organised independently by members of the commission. Peter Saunders, who is a British member, and also a survivor of sexual abuse, praised Spotlight, calling it "excellent" before then adding, "Every Catholic should watch it, and certainly all the clergy."
Pope Francis originally set up the Vatican commission on clerical sex abuse back in 2014, and he also created a tribunal aimed at prosecuting bishops that covered up the crimes of abusive priests.
Cardinal Sean O'Malley, who, after the Boston Globe's Spotlight team exposed the history of sexual abuse by priests in the city, took over the Boston archdiocese, was put in control of the commission, which was also filled with abuse survivors and clergy as its members. They were then tasked with finding new and better ways to stop priests from abusing children, and keeping potential victims out of harm's way.
While Pope Francis, who admitted last year that he hasn't watched television or a film in over 20 years, is unlikely to see Spotlight at any point in the near future, Vatican Radio did previously praise the film, calling it both "compelling" and "honest." Spotlight is easily one of the most important, powerful films of the last few years, and if you haven't seen it yet, you need to do so immediately.
Your Daily Blend of Entertainment News