Why X-Men: Apocalypse Made An X-Men: The Last Stand Joke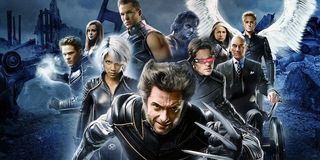 Warning: minor spoilers for X-Men: Apocalypse are ahead!
It's been 10 years since X-Men: The Last Stand was released, and it's still considered one of the worst entries in the X-Men movie series. Fortunately, the franchise managed to pick itself afterwards, and its latest entry, X-Men: Apocalypse, has some fun at its 2006 predecessor's expense when one of the characters mentions that, "Everyone knows that the third movie is always the worst." While that line is certainly applicable to a lot of threequels, X-Men producer Simon Winberg admitted it was a way to poke fun at themselves after so much time had passed.
During an interview with CreativeScreenwriting, Kinberg couldn't recall where the joke originated, but he made it clear that it was intentionally meant to refer to X-Men: The Last Stand, not just movies in general. He said:
This particular joke in X-Men: Apocalypse comes after Jean Grey, Cyclops, Nightcrawler and Jubilee have seen Return of the Jedi, the third movie in the original Star Wars trilogy, at their local mall theater. While chatting with Cylops, Jean makes that "third movie" comment. X-Men: The Last Stand earned a number of criticisms upon its release, from Brett Ratner's direction (taking over Bryan Singer's spot) to the controversial ways Professor X, Jean Grey and Cyclops were killed off. However, the events X-Men: Days of Future Past retconned most, if not all, of what happened in X-Men: The Last Stand, creating a new timeline.
Ironically, the joke also comes at the expense of X-Men: Apocalypse itself, which is the third movie in the "First Class" trilogy. Since being released ahead of time for critics and various other territories, the move as earned mixed-to-negative reviews, and it currently sits at 48% among critics on Rotten Tomatoes. That ranks it as the worst of the main X-Men movies, though 2009's X-Men Origins: Wolverine is still considered the worst of all the movies in this universe, sitting at 38%. Of course, as with any movie, individual opinion is subjective, so don't let that deter you from seeing it if it looks interesting to you. At the very least, it looks like X-Men: Apocalypse will end the current era of X-Men movies and kick off their next stage with a bang, and it's already drawn in a lot of money internationally.
X-Men: Apocalypse hits U.S. theaters tomorrow, though depending on which area you live in, you may be able to see it tonight.
Connoisseur of Marvel, DC, Star Wars, John Wick, MonsterVerse and Doctor Who lore. He's aware he looks like Harry Potter and Clark Kent.
Your Daily Blend of Entertainment News
Thank you for signing up to CinemaBlend. You will receive a verification email shortly.
There was a problem. Please refresh the page and try again.