Why You Should Watch White Christmas On Christmas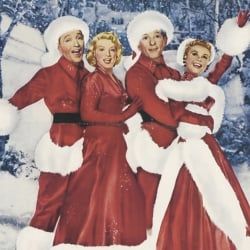 When you're a kid growing up in a warm climate like South Carolina's, a White Christmas sounds as magical as Santa himself showing up to hand you your presents one by one on Christmas morning. Even if it snowed once a winter, as it usually did, the snow never came on Christmas, and a handful of Christmas mornings were spent wearing T-shirts, forlornly wrapped in the new scarves and sweaters that were way too warm but it was new, dammit, so it hard to be worn anyway. Kevin McAllister woke up to a blanket of snow on Christmas morning in Home Alone; ditto for Ralphie, George Bailey, the Who's of Whoville and even the cursed Griswolds. The Rich family went on bike rides and ate Christmas dinner on the porch.
But ironically, almost perversely, we always watched White Christmas. It's one of my dad's favorites, an old-school song-and-dance, romantic musical starring the inimitable Bing Crosby alongside Danny Kaye, Rosemary Clooney and Vera Ellen, a stunning beauty and talent largely forgotten by movie history. The vast majority of the movie is just a classic musical, stuffed with lavish numbers-- the main characters are performers, of course-- and romantic misunderstandings, all culminating in some onstage kisses and belting out the big finale. But behind it all is the promise of the song they all sing together on the train up to Vermont: Snow! I'm gonna wash my hair with snow! When they arrive in Vermont and find not a single flake, I couldn't help feeling that Bing Crosby understood my plight.
My memories of White Christmas from those many childhood viewings are scattered and fuzzy, but we still watch it every year, and having grown up adoring musicals there's nothing more joyful I can imagine watching on Christmas. It's perfect if you're worn out on carols and red and green and Vince Guaraldi, a movie that takes place around Christmas but isn't terribly preoccupied with the holiday, saving the Santa outfits and Christmas tree for the very end. The iconic song "White Christmas" opens the film, sure, but it's sung on a battlefield, and we go through any number of candy-colored, totally non-denominational musical numbers before getting to the big reprise at the end. It's also shot through with some genuine melancholy, the big finale based around former soldiers Hope and Kaye trying to cheer up their retired general by reuniting the whole Army division to remind him of his glory days. Sure, it portrays the battlefields of Germany in World War II as a place where Bing Crosby could put on a show, but it's an Eisenhower-era bit of fluff that's also honest about how difficult it is to return from wartime glory to retirement on a Vermont homestead.
So long as I spend Christmas with my parents in the South, I'll probably never have the white Christmas that Bing and his friends eventually get, pulling back the stage wall to reveal the snowy Vermont landscape (that's really just a Hollywood soundstage, but hey, that's how they did it in '54). But you know what? I get my snow in New York now, but White Christmas happens back at home, when we're in the mood for old-school musical pleasures, Bing Crosby's unbeatable voice and magnificently giant forehead, and the sense that you're being transported to an earlier time, when wearing a sparkly dress, carrying a fan and singing songs with your sister was a reasonable career choice. Christmas is all about nostalgia, after all, even if it's nostalgia for an era you were never around to see-- and may have only ever existed in the movies.
Go here for more On Christmas movie ideas.
Your Daily Blend of Entertainment News
Staff Writer at CinemaBlend