Wolverine 3 Probably Won't Take Place In An X-Men Time That We've Already Seen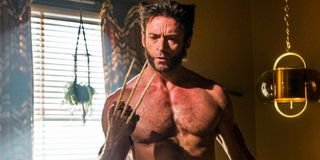 We're still a long way out from seeing the third Wolverine movie, but that hasn't stopped any of us from trying to unearth what secrets we can from its star Hugh Jackman. While we squeezed a couple of lines from the actor during the press junket for his new movie Chappie, MTV's Josh Horowitz was able to do the same.
As Jackman confirmed to us, Wolverine 3 will be based on a comic book story arc that he and director James Mangold are looking at. But as he revealed to MTV, it won't take place anywhere we've already been in the Wolverine and X-Men movies. Horowitz asked him as much, and Jackman replied with a definitive "no." However, he did also say that the film will draw from elements within multiple comic book stories.
Though details are being kept under wraps, Patrick Stewart, who famously portrays the older Professor Xavier, said that he's in talks to join Jackman in Wolverine 3. This casting is not official at this point, but Jackman would neither confirm nor deny this report. Instead, he said he'd be thrilled if Stewart was a part of it.
You can watch the full video with Jackman's comments, including more of his thoughts on Spider-Man induction into the MCU, below.
Wolverine 3 is scheduled to hit theaters on March 3, 2017, and all of us will continue to pore over the library of X-Men comics to figure out which stories just might be the ones Jackman is talking about. <>br>
But before then, we'll see the actor reprise his adamantium-clawed mutant badass in X-Men: Apocalypse. He'll be joining the likes of Jennifer Lawrence (Mystique), Nicholas Hoult (Beast), Michael Fassbender (Magneto) and Professor X (James McAvoy). In addition, Channing Tatum and Oscar Isaac will be making their first appearances as Gambit and Apocalypse, respectively, while Stewart said that his buddy Ian McKellen is definitely in this sequel as the older Magneto. As was revealed by the X-Men producers in the past, the current plan is for Jackman to shoot both of these films back to back, with Apocalypse dropping on May 27, 2016.
Your Daily Blend of Entertainment News