Watch Hugh Jackman React To The Marvel Spider-Man News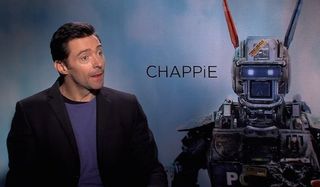 By now everyone has heard the exciting news of Spider-Man and Marvel being reunited. With the announcement that Spidey will now inhabit the same big screen world as Captain America, Iron Man, Hulk and more, some of us had our heads spinning. Looks like we superhero fans weren't the only ones who had our minds blown by the big news, however, as this recent clip of Hugh Jackman proves he too was actually quite surprised.
I think we can all agree as evidenced by the above video that Jackman was caught off guard by the announcement of the Marvel/Sony Spider-Man deal. He was actually promoting his latest film Chappie, by writer/director Neill Blomkamp (District 9), which makes sense as to why he may not yet have heard. Nonetheless, it made for some pretty good entertainment. While he/we didn't get to soak up that element of surprise and wonder as much as we all would have liked, seeing his genuine, momentarily shocked, expression if even for only a moment in the above interview with ScreenCrush as he heard the news was definitely fun to watch.
It's also always cool to see someone like Jackman geek out a bit like he did with his response to the question of what the deal's impact could mean for Wolverine, as far as the character making an appearance in a Marvel pic. I think he speaks for most of us when he says it would be amazing to see Iron Man face off against Wolverine on the big screen. Come to think of it, this isn't the first time he's opened that conversation. In an interview with Screen Rant back in 2014 the actor discussed, on the set of The Wolverine, the idea of The Avengers sharing continuity and he brought up the Iron Man/Wolverine possibility, with seemingly the same giddiness:
Sony and Marvel may have finally reunited Spider-Man with the rest of the MCU, but with Fox still owning the rights to X-Men, it's likely we won't be seeing Wolverine interact in the shared universe anytime soon.
Things are still in the very early stages as far as the newly announced partnership concerning Spider-Man, Sony and Marvel, so it's likely we'll be hearing news in the coming weeks and months about the first MCU Spider-Man film, who will direct it and, probably of more speculative interest than anything else, who will star as the heroic web-slinger.
Your Daily Blend of Entertainment News