Wonder Woman Reveals Its Impressive Full Cast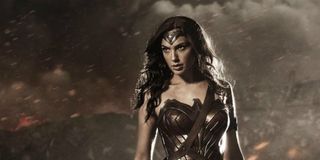 While all attention seems to be aimed towards the impending release of Batman V Superman: Dawn of Justice, new developments have slowly been released regarding the third element of the DC trinity: Wonder Woman. Production on the iconic female superhero's solo film has begun under the direction of Patty Jenkins (The Killing) and Wonder Woman is the first DC solo film expected to hit theaters in 2017.
Business Wire reveals that Warner Bros. have commemorated the occasion by releasing Wonder Woman's full cast. Check out the ensemble below and see for yourself:
A relative Hollywood newcomer, Gal Gadot was arguably known best for her work on the Fast & Furious franchise before being cast as Diana Prince AKA Wonder Woman. While the Israeli actress will appear in Batman V Superman, Wonder Woman will see her character taking center stage for the first time. Seemingly knowing that Wonder Woman could set the stage for future female-fronted superhero films, Gadot made it clear months ago that her intention with Wonder Woman and its titular heroine is to create a movie in which she is not "heartbroken" or in need of rescue by a male counterpart.
Speaking of male counterparts, we have already known for some time that Chris Pine had been tapped to portray Wonder Woman's love interest: Captain Steve Trevor. The actor has an impressive resume of Hollywood films that includes Unstoppable, Horrible Bosses 2 and Z For Zachariah. He is perhaps best known for his portrayal of Captain James Kirk in the rebooted Star Trek universe. Rumors had swirled for some time that the actor may in fact be playing Hal Jordan in Green Lantern Corps – which is set to hit theaters in 2020 – but this all but confirms that he will take a more secondary role in the DC Extended Universe.
One of the most seasoned veterans present among the entire cast, Robin Wright is arguably best known at the present moment for her role as Claire Underwood on House of Cards. She also knows a thing or two about the world of a princess, having portrayed Princess Buttercup in 1987's The Princess Bride. Smart money is on Wright taking the role of Diana Prince's mother Hippolyta -- a role we had previously thought would go to actress Nicole Kidman.
Danny Huston is no stranger to comic book films. He portrayed the primary antagonist William Stryker in X-Men Origins: Wolverine, as well as haunting vampire Marlow in 2007's 30 Days of Night. While the nature of his role in Wonder Woman has yet to be fully fleshed out, it would seem a safe bet to assume that he will once again take the form of an antagonist.
Oh hey, David Thewlis is also in Wonder Woman. That's right, Diana Prince is going to cross paths with the man once known to the world as professor Remus Lupin. English by birth, the 52-year-old actor has appeared in numerous films over the last few decades, most notably in the Harry Potter film series. More recently he has appeared in The Theory of Everything, as well as the upcoming Tom Hardy fronted Legend.
Ewen Bremner is one of those actors that most people likely recognize, but few could put a name to. He's no stranger to action movies, having appeared in Snowpiercer, Black Hawk Down, and Pearl Harbor -- just to name a few. Arguably his most iconic performance came in Danny Boyle's 1996 film Trainspotting as Spud Murphy.
Rounding out the male side of the cast is French American actor and screenwriter Saïd Taghmaoui. His most notable contribution to the action genre came in 2009 when he portrayed commando Breaker in G.I. Joe: The Rise of Cobra.
Elena Anaya is a Spanish actress who has accumulated more than 40 credits to her name since 1995. She has appeared in numerous films across numerous genres, but Cinema Blend readers will probably know her best for her role in 2004's Van Helsing. Regardless of your thoughts on that film, she has most certainly proved her ability to play vicious femme fatale, so expect to see some of that in Wonder Woman.
Finally we have Lucy Davis. Most audiences will likely recognize the British actress from her role as Dawn Tinsley on BBC's The Office – the analog to Jenna Fischer's Pam Beasley from the American version. In addition to The Office, she has also appeared in Shaun of the Dead as well as Garfield: A Tale of Two Kitties. Give this information, we'll assume that Davis' role will be akin to that of Kat Dennings' role of Darcy in the Thor films, providing comic relief to our fish out of water protagonist.
We will bring you more updates on Wonder Woman as they become available. The film is expected to hit theaters sometime in 2017.
Originally from Connecticut, Conner grew up in San Diego and graduated from Chapman University in 2014. He now lives in Los Angeles working in and around the entertainment industry and can mostly be found binging horror movies and chugging coffee.