X-Men: Days Of Future Past's Deleted Juggernaut Scene Has Been Revealed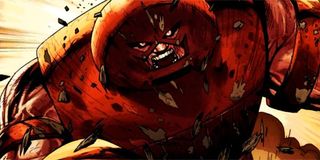 While Evan Peters' Quicksilver wound up being one of the best parts – if not the best part – of Bryan Singer's X-Men: Days of Future Past, the reality is that he wasn't actually always going to be in the movie. As we learned back in March, the original plan was to actually include a younger version of the unstoppable force known as Juggernaut. And given the two characters' very different power sets, it should be no surprise that the original Pentagon jail break sequence was originally going to be very, very different than the one that ended up in the final cut of the film.
As part of the on-going San Diego Comic-Con, earlier this afternoon X-Men: Days of Future Past writer/producer Simon Kinberg participated in a panel solely focusing on the summer blockbuster – and during the conversation he revealed exactly how young Juggernaut was used in earlier drafts of the script. According to Kinberg, the original idea was to have the character fly up in a jet with Xavier, Wolverine and Beast and hover 20,000 feet above the Pentagon. From there, Juggernaut would have leapt out of the plane and used his special abilities to blast himself through the ground and access Magneto's prison cell. The writer added that Wolverine was going to follow Juggernaut's path and smash every bone in his body once hitting the ground (though obviously he would use his healing powers to regenerate and survive the fall).
So what changed? Apparently, it was all Bryan Singer's idea to switch gears in the middle of production and change the sequence from featuring Juggernaut to featuring Quicksilver. The director felt that using Juggernaut wasn't creative enough given the fact that Brett Ratner used the character in X-Men: The Last Stand. He then found inspiration watching high speed photography videos on YouTube and came up with the perfect way to utilize Quicksilver in X-Men: Days of Future Past.
You'd think that this kind of massive change in the middle of a shoot would wind up causing serious scheduling and budget issues, but Kinberg noted that it didn't really rock the boat too much at all. Unlike other big action sequences, the scene was very self-contained and small (meaning they didn't have to build any expansive sets), and weirdly enough the use of CGI was minimal. While bullets and water droplets were obviously visual effects, stuff like a character's cheek rippling was all because of the high-speed camera.
When X-Men: Days of Future Past finally arrives on Blu-ray and DVD on October 14th, I definitely plan to spend a good deal of time watching the Quicksilver sequence over and over, just because of how incredibly cool it looks. But would you have liked to see how the Juggernaut sequence would have played out? Let us know what you think in the comments below.
Assistant Managing Editor
NJ native who calls LA home and lives in a Dreamatorium. A decade-plus CinemaBlend veteran who is endlessly enthusiastic about the career he's dreamt of since seventh grade.
Your Daily Blend of Entertainment News
Thank you for signing up to CinemaBlend. You will receive a verification email shortly.
There was a problem. Please refresh the page and try again.