If You Liked Tom Hardy In The Dark Knight Rises, Just Wait Until Lawless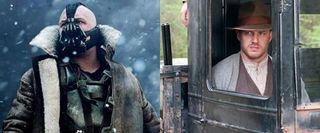 Although there wasn't an official The Dark Knight Rises presence at Comic Con, the special screening of John Hillcoat's Lawless was the best possible lead in for Christopher Nolan's final comic book movie thanks to Tom Hardy's fierce performance. The fact that I was even awake in a dark theatre at 2:30 a.m. on Saturday, sorry, then Sunday of SDCC says a lot but I not only stayed up, I was left wide eyed thinking about what kind of villain we might see from the actor in Rises.
All anyone could talk about after the 8 minute Dark Knight Rises sneak preview was Tom Hardy's Bane and yet, except a few asides alluding to how the villain's voice was too muffled or comical, he seems to be absent from most of the opening weekend conversation. Obviously, the terrible situation in Aurora has been at the forefront of the discussion but even in the initial Rises reviews or more recent opinion pieces, the star seems to be riding side saddle to Anne Hathaway and Joseph Gordon Levitt even though Hardy's work as Bane, betrayed a bit by a terrible sound mix, is the most impressive and selfless.
Besides being part of Nolan's 'Dark Knight Trilogy,' there is nothing glamorous about the actor's first turn as a villain since being the bad guy in Star Trek: Nemesis. Not only does Hardy have to follow Heath Ledger's impossible-to-live-up to Academy Award winning performance as the Joker in The Dark Knight but he has to do it without three quarters of his face and looping in every line of dialogue after the fact. Say what you will about the voice--personally I like the delivery but hated the sound mix--but what Hardy is able to convey with often just his eyes and bloated body is staggering. It's a ballsy and affecting performance from the actor and, even though Rises doesn't seem to be his superstar making performance, Hardy's still got one more chance to wow with his role in The Weinstein Company's Lawless. And he does.
Lawless is a John Hillcoat directed, Nick Cave scripted adaptation of Matt Bondurant's "The Wettest County in the World" starring Hardy as well as Shia LaBeouf, Jessica Chastain, Jason Clarke, Mia Wasikowska, Guy Pearce and Commissioner Gordon, sorry Gary Oldman. (To see more images from Lawless, go here) Hillcoat and Cave, the team behind The Proposition, have crafted an intense portrait that depicts the real life story of the 'Bondurant Boys,' a family of moonshiners in Franklin County, Virginia who wouldn't back down in the face of big city pressure. The Bondurants were labeled invincible and, to borrow a phrase from 300, the events in Lawless put that name to the test.
Hardy plays Forrest, the fiercely stubborn leader of the Bondurants and a man of little words. Very much in support of Shia's Jack, Hardy's performance once again steals the show, no easy feat with the cast Hillcoat assembled. He's quiet yet ferocious. A man who doesn't say much (unless guttural expressions count, he has a variety of those), because his actions speak loud and clear. He says all you need to know with his eyes and body language - a difficult task when his movement is limited - building relationships with the entire cast that you first feel in your gut and then move you to the edge of your seat. Hardy also manages to infuse the role with a lot of compassion and even moments of humor, creating a complex portrait and memorable character.
As if Hardy's resume wasn't exciting enough-- his breakout role as the confident forger in Inception, the love-struck spy in Tinker Tailor, the brooding fighter in Warrior--watching the actor in the rural bootlegging yarn was the proverbial cherry for my Dark Knight Rises anticipation. And you're lucky enough to still have it ahead of you... Lawless hits theaters on August 29.
Your Daily Blend of Entertainment News
Your Daily Blend of Entertainment News
Thank you for signing up to CinemaBlend. You will receive a verification email shortly.
There was a problem. Please refresh the page and try again.