Young Han Solo: 10 Actors Who Would Be Perfect For The Star Wars Character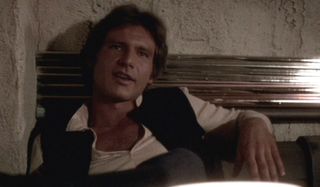 A long time ago, in a galaxy called Hollywood, the plans for Star Wars expansion continued with the announcement of a solo Han Solo movie, co-directed by The LEGO Movie hotshots Phil Lord and Chris Miller. The reveal came with precious few details, though it was made clear that the story would be an origin movie of sorts, explaining how Solo became "the smuggler, thief, and scoundrel whom Luke Skywalker and Obi-Wan Kenobi first encountered in the cantina at Mos Eisley."
About the only actor in town who won't audition for this role is Harrison Ford… who returns to Solo's story path in J.J. Abrams' Star Wars: The Force Awakens. Disney and Lucasfilm are going to have to go younger when looking for the next actor to fill Ford's massive shoes. We think the following 10 actors at least deserve a phone call. Do you have other suggestions? Let us know who you think is the perfect young Han Solo in the comments section below:
Dylan O'Brien
Current Age: 23
Where You Have Seen Him: The first Maze Runner film (and its pending sequel), as well as MTV's Teen Wolf, where he plays "Stiles."
Why He's Worthy: He's shown a sarcastic side, but also can play the hero – two traits that a new Han Solo will need.
Colton Haynes
Current Age: 26
Where You Have Seen Him: Another Teen Wolf alum, Haynes also has appeared on Arrow (playing Roy Harper / Arsenal) and got a taste of big-screen action by appearing alongside The Rock in San Andreas.
Why He's Worthy: If Disney wants to get a young star before he officially breaks out, and groom him to carry a franchise for years, Haynes could be their guy.
Scott Eastwood
Current Age: 29
Where You Have Seen Him: He charmed audiences (and Britt Robertson) in the Nicholas Sparks weeper The Longest Ride. He's about to contribute to the DC Cinematic Universe in a mysterious Suicide Squad role, but a leap to Star Wars isn't out of the question.
Why He's Worthy: He's a Hollywood "Blue Blood" (the son of Clint Eastwood, obviously), and he has the right mixture of movie-star good looks, irascible charm, and experience with tentpole action. Sign him now, before he blows up.
Liam Hemsworth
Current Age: 25
Where You Have Seen Him: The other Hemsworth has been busy protecting Katniss Everdeen in the Hunger Games series. He acted alongside Harrison Ford in the little-seen Paranoia, and is about to revisit another sci-fi property in Independence Day: Resurgence.
Why He's Worthy: Because he's young, handsome, modeled to be an action hero, and has a special movie-star gene that seems to run in the Hemsworth family. If Disney needs a name, this is the one that they should grab.
Anthony Ingruber
Current Age: 25
Where You Have Seen Him: Did you see The Age of Adaline? No? I know. No one did. But he was in it.
Why He's Worthy: And in that film, during a key flashback, Anthony Ingruber played a young Harrison Ford, and his impersonation was uncanny. Now, is that enough to get him the role of Han Solo? Nope. But it should be on his reel when he sends it to Disney for consideration.
Theo James
Current Age: 30
Where You Have Seen Him: Though he had a role in Underworld: Awakening, most know him as Four in the Divergent series of films.
Why He's Worthy: Because he has cut his teeth on a mega-YA franchise, and actors tend to take those parts so that they can springboard them to the next level. James actually rose above the tedium of the Divergent storylines, establishing Four as a three-dimensional character. Could he play Han Solo next?
Cameron Monaghan
Current Age: 21
Where You Have Seen Him: On television, on programs like Gotham, Mercy Street and Shameless.
Why He's Worthy: Because Disney likely will look to successful TV properties in order to pluck top talent, and Monaghan has been building a fan base. He's very young for what we assume Disney will want to Han Solo, but at this early stage, you never know what's on the casting wish list.
Ansel Elgort
Current Age: 21
Where You Have Seen Him: Alongside Shailene Woodley in the cancer drama The Fault in our Stars, as well as the Divergent films. He also made a memorable inpression in the Carrie remake.
Why He's Worthy: Elgort's name has been on most "Hot Up-And-Comers" lists for the past two years, and he's primed for a breakout. Unlike his fellow young (and intense) actors, he has that casual, carefree charm that fits Han Solo. Can he carry an action film? We may find out.
Sam Claflin
Current Age: 29
Where You Have Seen Him: Playing second-fiddle (though lending strong support) to the Hunger Games leads and both Snow White and her Huntsman.
Why He's Worthy: Claflin has plenty of big-ticket experience (he also played Philip in the most recent Pirates of the Caribbean movie… also by Disney). This is intriguing. His name has been rumored for Gareth Edwards' Star Wars Anthology: Rogue One. Maybe there's a reason he's on Disney's radar?
Aaron Taylor Johnson
Current Age: 25
Where You Have Seen Him: As Kick-Ass, and in Godzilla, but also as a recent member of The Avengers during the Age of Ultron.
Why He's Worthy: Because after starting in lower-budget fare, ATJ has worked to prove that he can play on the same court as the blockbuster movie stars. Marvel doesn't need Quicksilver back for Phase Three (spoiler!!), so Taylor Johnson is free to explore new galaxies as another classic hero.
But who do we think REALLY deserves a look? Click on ahead for our bonus choice. You won't be disappointed.
BONUS PICK: Jai Courtney
Current Age: Ageless
Where You Have Seen Him: Everywhere, in everything.
Why He's Worthy: Because this is the Age of Jai, and Hollywood is doing everything in its power to make sure that Jai Courtney puts his fingerprints all over every franchise you have ever loved… from Die Hard to the Terminator. Look into your hearts, people. Jai Courtney as Han Solo. You know it. You love it. Make it so.
This poll is no longer available.
Your Daily Blend of Entertainment News
Sean O'Connell is a journalist and CinemaBlend's Managing Editor. He's frequently found on Twitter at @Sean_OConnell. ReelBlend cohost. A movie junkie who's Infatuated with comic-book films. Helped get the Snyder Cut released, then wrote a book about it.