Zach Braff Gives Brief Kiss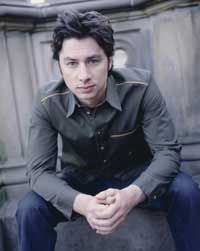 I may stand alone, but I've begun to feel Celebrity Blogs have run their course. With the rare exception like Wil Wheaton, the blogs tend to be solely about self-promotion, with very little insight given about the actual person. Zach Braff tends to be another one of those rare exceptions.
Although months may pass between updates, Braff used Fox's Garden State promotional site to keep fans aware of what was going on professionally and personally. After Garden State's successful soundtrack, Braff would also use the site to recommend other artists to his fans. With his directorial debut two years behind us however, it was time to move on. And thus, ZachBraff.com was born.
The "Scrubs" star's personal site will continue the work Braff began on the Garden State blog, but with a little bit more. For instance, the site currently holds the internet's exclusive first look at Braff's next film: The Last Kiss, which was written by Paul Haggis, directed by Tony Goldwyn, and stars Braff, Jacinda Barrett, and Casey Affleck. In a video introduction also posted on his site, Braff promises the possibility of interviews and more with the cast in the coming months leading up to The Last Kiss's September release date.
Head over to ZachBraff.com to see what the robots have constructed and get a brief glimpse into The Last Kiss
Your Daily Blend of Entertainment News
Thank you for signing up to CinemaBlend. You will receive a verification email shortly.
There was a problem. Please refresh the page and try again.