Zack Snyder Takes Shot At Ant-Man, Here's What He Said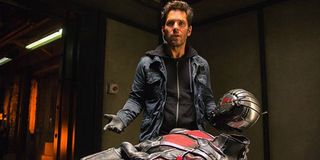 We're still several months away from the release of a Marvel film and a DC film within the space of a few short weeks of each other. But, while the world eagerly waits for Captain America: Civil War and Batman v Superman: Dawn Of Justice to hit our screens, Zack Snyder has decided to get an early pot-shot in by criticising Marvel, in particular Ant-Man.
During his discussion with Daily Beast, Zack Snyder, who directed Man Of Steel, is currently putting the finishing touches to Batman v Superman: Dawn Of Justice, and has been tasked with forging Warner Bros.' DC universe, was asked for his opinion on Steven Spielberg's recent comments that the superhero genre will ultimately go the way of the Dodo and the Western. Snyder then admitted that he believes Spielberg's assertion was correct, before then explaining how Batman and Superman won't be troubled by the potential demise of the superhero film because they transcend it. Snyder remarked:
Well, well, well, I do believe that we have the makings of all-out verbal warfare between Marvel and DC on our hands. We're lucky that we're here in the early days of the battle though, because this is when we can speculate about the pithy, witty manner that Ben Affleck will use to diss Robert Downey, Jr., and dream that Henry Cavill is going to wedgy Chris Evans.
You can bet your bottom dollar though that as Dawn Of Justice and Civil War's release dates draw closer, Marvel and DC's actors, directors, producers, and executives will be making predictable, lame, and tremendously un-funny quips about each other that will almost instantly become tiresome.
But does Snyder have a point? Well, as with most things, both yes and no. Sure, Ant-Man didn't really add anything different to Marvel's cinematic oeuvre. Yes, it had some laughs and was entertaining enough, but it reeked of previous instalments from the studio. Clearly, audiences still wanted to see the latest origin story for Marvel's next big screen hero, because it grossed the highly respectable $384.8 million at the box office. Will this be sustainable over the next few years, when Black Panther, Doctor Strange, and Captain Marvel get their own debut solo films? Only time will tell.
But it's still a little bit rich for Zack Snyder to be making these comments. Sure, Batman and Superman, as well as Wonder Woman, are each iconic characters that transcend the superhero genre. But what about Shazam, Aquaman, and Cyborg? They're surely in the same cult category as Marvel's aforementioned trio.
Either way, Zack Snyder has got the latest verbal sparring match between the studios underway, and we can expect to hear plenty more barbs before Batman v Superman: Dawn Of Justice and Captain America: Civil War are released on March 25, 2016, and May 6, 2016, respectively.
Your Daily Blend of Entertainment News